If you have a blog or a site, you must know the ways of optimizing your blog for SEO. Because, if you do not optimize your blog's content properly, you might miss the chance of getting organic visitors. So , you must understand the importance of business blogging. But, one thing is important, do you know about how to optimize your blog contents to make them more search engine friendly?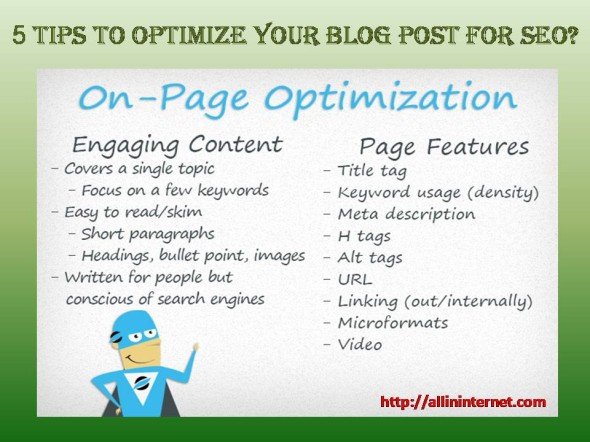 There are five easy tips of search engine optimization (SEO) to help get your blog noticed to the all search engines.
Five Key Tips of Search Engine Optimization of Your Blogs:
Research on Keywords :. Keyword research is very important for on page optimization.  To help you for better research, the Google Adwords Keyword Tool and semrush.com both is the best tools that will allow you to find keywords related to your  contents to bring traffic to your sites.
Utilize Researched keywords throughout your Contents:  When you have targeted a couple of relevant keywords, it is essential to place them where they will have the most impact for visitors and search engine bots indexing your contents. Keep in mind the following things during writing and publishing your contents
Title of the Post
Headings and subheadings of your post
Introductory sentence
Concluding statements
Anchor text(s) (text you hyperlink to other related pages on your site)
Title tags, meta tags and meta descriptions
Optimize your images:  Whenever you upload a image to your post, make sure to include keywords in the image name and fill the alternate text (image Alt Tag) field, describe your image with your targeted keyword.
Give Visitors the Chance to subscribe to your blog: Put RSS or Feed Subscription Buttons and offer visitors the ability to subscribe to your posts via email. This will allow your blog followers to  get instant message of your latest posts without having to check your blog periodically for new posts.
Use social media to expand your blog post: You must create fan pages  on Facebook, Twitter, Google+, pinterest platform and expand your latest posts through those pages to create connections with visitors.
Cautions: Don't involve in keyword stuffing in your posts. It will also get you penalized by Google.
By following these 5 SEO tips, you can get higher rank in search engines,  increase web traffic, and higher customer conversion rates.