Enjoying your holiday or traveling around the world is an amazing and good experience that everyone should get to do at least once. But sometimes it's hard to capture all the moments that you want because your hands are either full or tired from holding a camera in the air for so long. That is why a smartphone can be really valuable because it could capture moments discreetly and more often than not it is always at your hand. The only problem is, that vlogging can be complicated to set up and mess with us technical folk.
Moreover, vlogging has emerged as one of the important trends in the online world. It is a way to share your life moments, behind-the-scenes work, or even your advice for others. So, if you want to start vlogging but you're not sure where to start, we've got your back. This guide will give you all the tips on how to vlog using a smartphone.
Five Easy Ways to Vlog Using Smartphone
Using a smartphone to vlog is the quickest and easiest way to start creating content of your own. And it's this easy:
1. Use a Tripod:
Even if you're going to be walking around while vlogging, it's important that your phone is on a steady surface while recording video. Otherwise, the motion will be too shaky and hard to watch. If you don't have one already, pick up an inexpensive tripod at your local electronics store—they're suitable for most smartphones—and make sure it's always nearby when you're ready to record.
2. Find the Best Angle:
Holding the phone too high or low will distort the image and make it uncomfortable to watch. Try filming yourself in front of a mirror so you can see what looks best on camera, then set up accordingly when you start recording. Smartphones have pretty good cameras, but they do have some limitations. Play around with what angles work best for filming, and where you can get the lightest in front of the lens.
3. Prepare an external microphone:
Purchase an external microphone. This is something that most people don't think about when they are just starting out but it's very important because the sound quality is better than what the camera on your phone can provide. The last thing you want is for viewers not to be able to hear what you're saying clearly!
4. Find a Good Lighting:
It's important to make sure the person on camera is well lit—but not directly lit by a single source of light! Try experimenting with natural light and lamps to create the best lighting setup in your home or office. Bonus points if you can find a way to diffuse that light! The more even your lighting is, the better your video will look.
5. Use the most enhanced smartphone:
There are lots of smartphones on the market today. You can use any phone as long as it has a camera with good quality lenses and a microphone, but it's best if you have a smartphone that is capable of capturing 4K videos. This gives you a better-quality video which means you can edit your vlogs more easily.
Recommended Smartphones for Vlogging
Now that we've covered the five easy ways to start vlogging, it's time to talk about a topic that's just as important: what kind of smartphone do you need to start vlogging?
We've compiled a list of our top recommended smartphones for vlogging. These phones all offer great video quality, and they're perfect for getting started with your new vlog!
Google Pixel 6 Pro – the Google Pixel 6 Pro features an ultra-wide-angle lens, telephoto lens, and a primary camera, making it much thicker than the Google Pixel 5 generation. The sensors at the rear measure 1/1.31′′ and offer a 50 MP resolution that is downscaled to 12.5 MP for the final output image.
Samsung Galaxy S22 Ultra – Galaxy S22 Ultra's pro-grade camera sensors capture more light for brighter night shots, so you can capture those epic moments at any time. And the new Space Zoom features 100x Space Zoom which makes it easy to zoom in on distant stars.
Honor X8 – The honor x8 2022 is a smartphone that stands out in more ways than one. Features include a 64MP main camera, 5MP wide-angle camera, depth, and macro feature camera, LED flash, and autofocus to take great photos that are sharp and clear.
In a nutshell…
Hopefully, you have learned something new in this article that you can apply in your vlog. Keep in mind that the most important thing is to capture the best moment and get the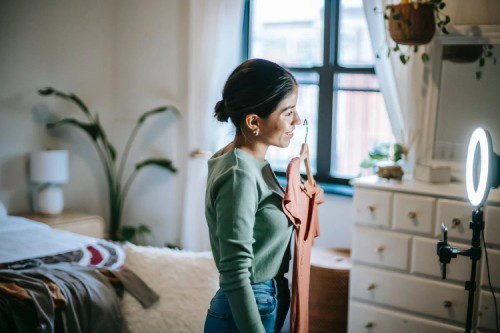 best out of it, for this will make you win more viewers. Always remember to have fun with your vlog, because then everything will turn out well and you will definitely find yourself enjoying vlogging. Good luck!