Have you ever heard that a hardwood lumber may become soft like a rubber? You may never believe that a hardwood lumber become like a rubber or spaghetti. But today I will share you an strange wood softening technique by which you can make a hardwood too soft like rubber.
Compression Wood Bending Technique:
A typical machine Compwood is used to bend wood at extreme level. This machine was developed in 1980 by Danish Technical Institute. This machine compresses the wood lengthwise so that the lignum bonds can be broken and the wood can be maximum flexible like a rubber, and, then, that wood can be easily bend in any direction. You can purchase this Compwood machine from a China.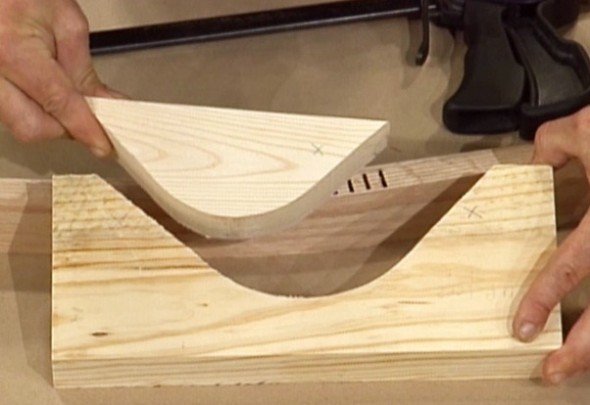 Complete Process of Compression Wood Bending:
At first, a long (10-12 feet approx.) air dried lumber is kept into the steam box for about 48 hours. After that, it is highly compressed from end to end. During this compression process, a 10-feet long lumber is compressed to about 8-feet long. After releasing the pressure, the lumber extends back to 9 feet (approx.) and it is kept in this condition for a whole day or a night.
To compress lumber in compression wood bending process, your lumber must have  moisture approx. 25-30%. The self life of the compressed lumber is about two years if it is properly stored in a cool environment.
The compressed lumber is bent by clamping on a template or mold similar to steam wood bending process. In compression wood bending process, when the wood dries properly, it holds its shape.
Cautions of Compression Wood Bending Process:
Some wood including White Oak and Ash may react well to this compression wood bending system. This system is more perfect for North American Red Oak hard wood.
The wood must be knot free and complex grain.
And the wood needs to be air dried (25% moisture).
Pros & Cons of Bent Wood in Compression Wood Bending System:
Bent wood in this system can be sanded and sawn well without any problem, but, normally, it doesn't plane well. That is why, you should bend wood in compression wood bending process after planing well with 4-side molder machine or similar like this machine.
By using this system you can soften or bend your wood wonderfully at extreme level like rubber and hence, you can make bent wood furniture easily and also can generate good profit in your furniture manufacturing business.