Dutch Bangla Bank Limited (DBBL) is the market leader in Bangladesh for Debit Cards. All types of DBBL debit cards offers you unlimited free access to all Dutch Bangla Bank ATMs and POS nationwide. There is no hidden costs associated with DBBL cards. By default, when anybody open a new DBBL account, he will receive the DBBL Nexus Classic card first.
Generally, A debit card is comparatively more advanced than a credit card. Dutch Bangla Debit cards have salient features than credit cards and also recognized by MasterCard and Visa card.
Dutch Bangla Debit cards are most secured, convenient and cheaper than any other credit card or debit card in the Bangladeshi market. You can withdraw money from your account through Dutch Bangla Debit cards directly where as a credit card has to issue a 'loan'.
DBBL debit cards are provided to the account holders with the client's photo printed on it. A DBBL credit card requires a signature only and no there is no PIN verification for any transaction. That is why, Dutch Bangla Bank (DBBL) recommends debit cards for day-to-day banking. All DBBL Debit cards come with PIN number that is protected all times by the client. The PIN number is generally used as a password for withdrawing cash from DBBL ATM Booths.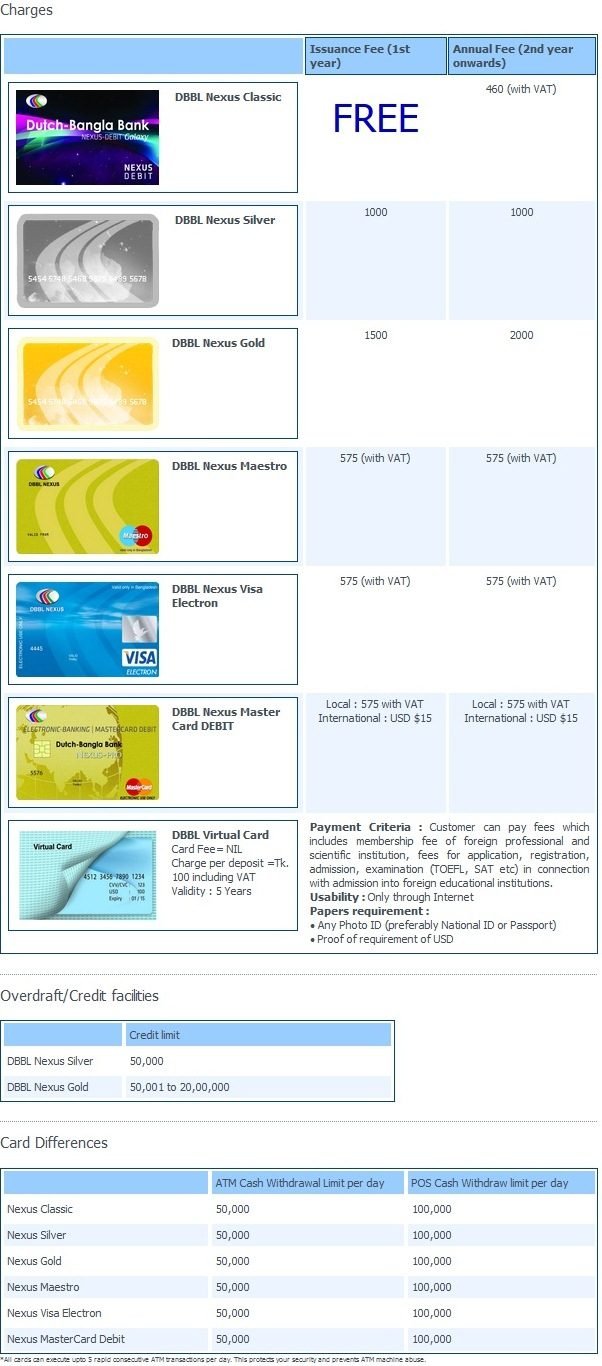 DBBL Debit Card's Overdraft and Credit Facilities
Dutch Bangla Bank has DBBL Nexus Gold and DBBL Nexus Silver debit cards in addition to normal debit cards. It has automatic overdraft facilities also (credit). It allows the Debit cards to have a credit amount. It allows the DBBL debit card to perform in the same manner like a credit card. A small amount of instant loan is issued against the clients bank account when clients exercise this special feature.
Along with DBBL Debit Card, Dutch Bangla Bank Limited also offers DBBL Virtual Card for international online transaction to pay fees and others.
Offers of DBBL "VIRTUAL CARD":
DBBL Virtual Card Fee :  NIL (0)
DBBL Virtual Card Charge per deposit: Tk. 100 including VAT
DBBL Virtual Card Validity: 5 Years

Payment Criteria of DBBL Virtual Card:
You can easily pay fees includes Fees for application, Membership fee of foreign professional & scientific institution, registration fees , admission fees, examination (TOEFL, SAT ACCA etc) fees in connection with admission into foreign educational institutions.

Usability: Over through Internet Only
Documents Requirement for DBBL Virtual Debit Card:
Any Photo ID (Driving License, National ID or MRP Passport)
One Recent Colored photo (Passport Size)
Printed copy of any FEES SCHEDULE or related documents
For any types of inquiry related to DBBL Virtual Card , call to : 16216
Hunting number: 7119152 (Foreign Customer)