Pinterest has become very popular among other social networking sites. Actually, Pinterest is for those people who likes photo. As a result, it has got a good position in competition as an authority site. We know the importance of getting backlink from an authority site. A blogger can easily get a high PR dofollow backlink for his blog. As a result, it can be a good source of traffic to your affiliate marketing site or blog.
We know social networking sites are playing a very important role now-a-days for your blog's SEO. It increases social signal of our blogs. A lot of social networking sites give us dofollow backlink from their profile settings.
But, to get a high PR backlink from pinterest like social networking sites is very effective. But, you have to give some efforts to get that link. And, that is, verify your site with Pinterest. Let us see how we can verify our site or blog into pinterest. In this way, you can get easily a high PR backlink from Pinterest within 5-6 minutes. And, you might know that a dofollow backlink is 100 times better than a nofollow backlink.
Steps to Verify Your Blog through Pinterest
1)   At first, login to your pinterest site.
2)   Click on your name or profile photo to get a dropdown menu.
3)   There, you will see "Settings" tab.
4)   Click on that "Settings" tab and You will go to the settings page.
5)   In this settings page, you will see a box to put your site url to verify.

6)   Type your site's URL into that box and then click on "Verify Website". Here, I have shown you my site's verification process.
7)   After clicking on verify button, you will redirecting to the verification page where you will see two process of verification – Uploading HTML file to the root folder code or putting meta tags into your index.php file .
8)      From that page, download the pinterest HTML file and then, upload it into your root folder. You can use filezilla, or any other FTP software to upload it. You can upload it from cPanel also.
9)      After uploading the html file into the root folder successfully, click on "Complete Verification" button.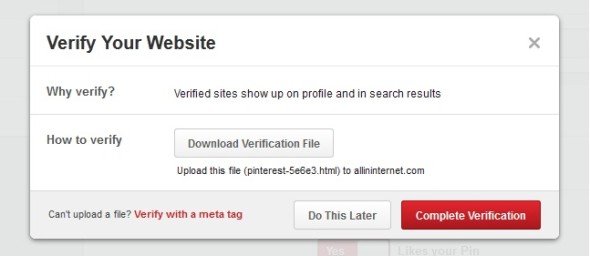 10)  Done! Your job is finished. Now, Pinterest will verify your site.
Now your profile will show that You are verified. Enough! A dofollow backlink has been done for your site.
If you have more than one site or blog, open different account of Pinterest and follow the above process different times.