Wanna Get Free International Master Card from Your Country? Get it Now! It is fully free for your country. You can easily use Free International Payoneer Master Card for withdrawing money from any ATM Booth (International Master Card Supported) from any country and online transaction (shopping, paying fees & charges etc). It is available for all country.
Features of Free International Payoneer Master Card:
100% Real International Master Card in your own name
You can shop online from hostgator, godaddy, namecheap, amazon etc.
You can verify your Paypal, Facebook, Ebay, Adwords account easily with that.
You can receive money from Paypal account.
You can get a free online bank account of USA (in Bank of America)
You can receive EFT payment from all organization.
You can withdraw money from ATM Booth
Your Name will be written in your Payoneer Master Card
If you put or get $100 (minimum) in your Payoneer Card, you can get bonus $25. (conditions apply)
How to Get Payoneer Free Master Card:
Just follow following 4 steps to get Payoneer Master Card from your country.
Register/Apply for Your Payoneer Card
Prove Your Identity
Active Your Card
Add Dollar into Your Card
Step-1: Register/Apply for Your Payoneer Master Card:
At first go to the following website and then, Click on Sign Up.
Apply for Free Payoneer Card from Here
Put Full & Accurate Personal Details in the personal details section in the sign up form. Type your full name here as per written in your passport/driving license/national id card. If you do not have your own passport/driving license/national Id, you can open an account by your family member's name (Brother/Sister/Father/Mother etc) who has Id/passport.

After filling up Step-i information correctly like below example, click on Step-ii to fill up the next. Fill all required info there.
Now, click on Step-iii and type your required info and then, click on "Finish" button. If your all information is right, your first step will be done successfully.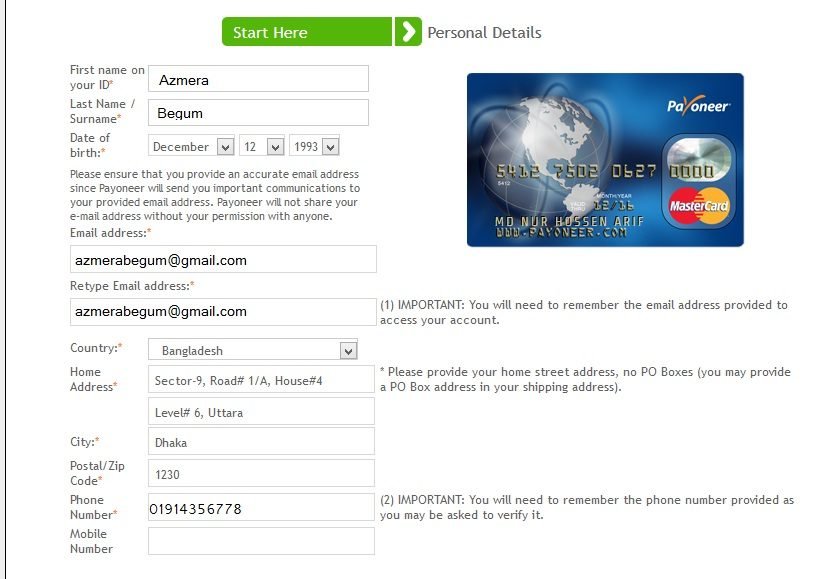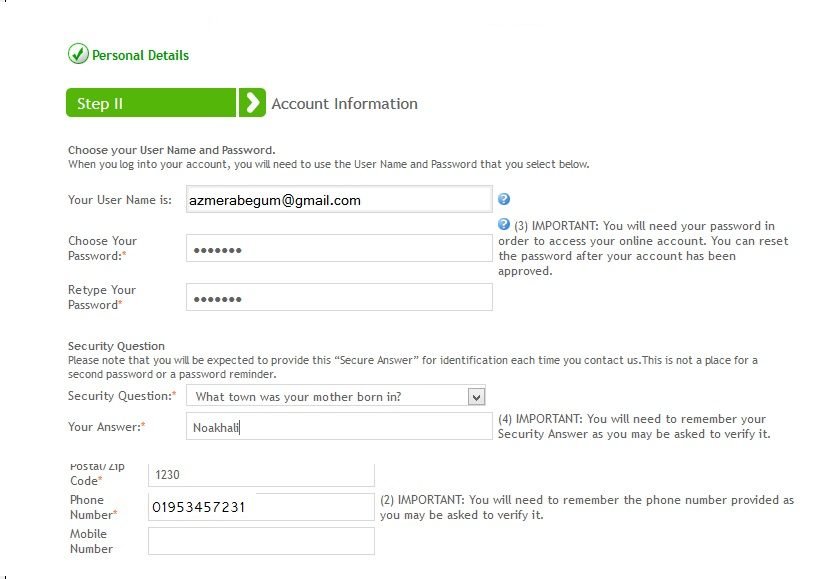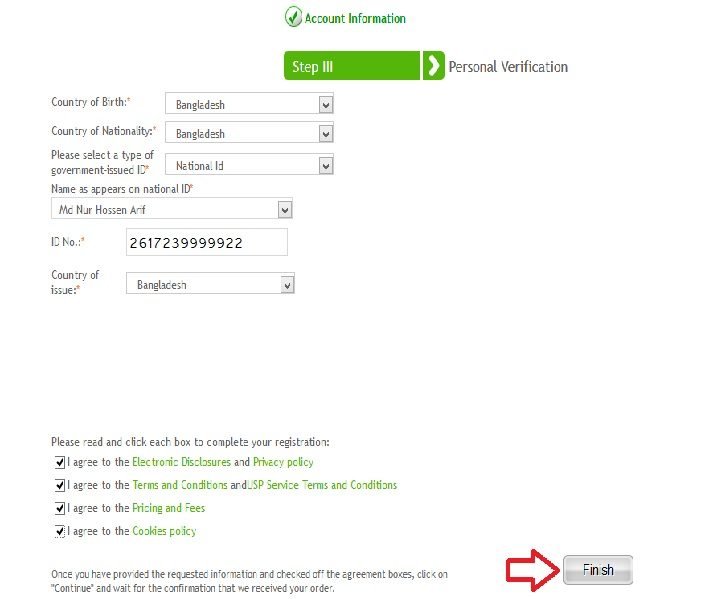 You can check your Free International Payoneer Master Card application status all time through Log into www.Payoneer.com.
Step-2: Prove Your Identity:
Submit your National Id/Passport/Driving License to prove your identity. Within few hours of submission of your identity as well as application, you will get a notification email. If you did not see any email within 24 hours of submission, check your spam folder also.
After uploading and submitting your identity card, you will be informed about your application. If your application is approved, you will be notified and your card will be mailed to your address immediately. Just keep eyes regularly to see the status of your account through log into Payoneer.com. Within 20 days, hopefully, you will get the master card. If you did not get the card within 30 days, contact with your post office.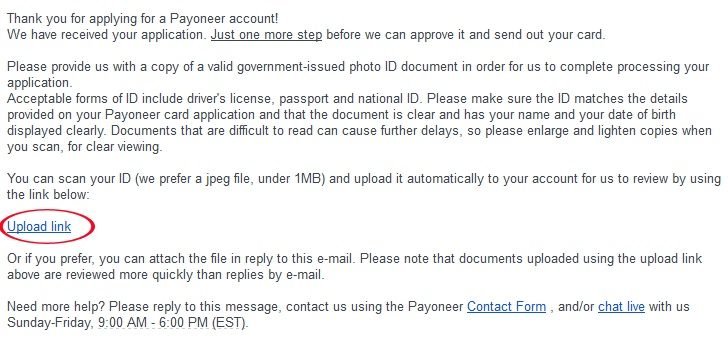 Step-3: Active Your Card:
After receiving Free International Payoneer Master Card, you have to activate it first. During activation of the card, you have to type a 4-digit PIN code. This PIN code will be used to withdraw money from ATM Booth.
Step-4: Add Dollar into Your Card
You can add dollar into your International Payoneer Master Card from Paypal, USA Virtual Bank Account Transfer, Freelancing Sites (Odesk, Frelancer.com, Guru, Elance etc), Payoneer partners – infolinks, clicksor etc. You can add money from another Payoneer card also.
If you load minimum $100 into your payoneer master card account, for the first time, you will get $25 bonus. You can withdraw this bonus amount from International Master Card supported ATM Booths. So, never miss it !