Recently, Microsoft Corporation has announced that they have developed the newest version of Windows (Windows 10). It has already gave us a small peek at the next version of Windows which is Windows 10.
Before Installation of Windows 10:
There are a number of warnings you have before you do anything to install windows 10:
Back up data first! Be sure to perform a backup on your data first before you upgrade to Windows 10. If you have left anything before install you can't recover again. Just create a backup.
You can't use your recovery partition to downgrade. If you have any recovery partition on your system, it may no longer be able to restore your computer to the version of Windows you had before.
You may need external recovery media to undo the upgrade. You may expect as you don't have a recovery partition, you may need a disc or USB device with Windows 8/7 (or older) on it to get back to the way things were if you don't like or may not use Windows 10.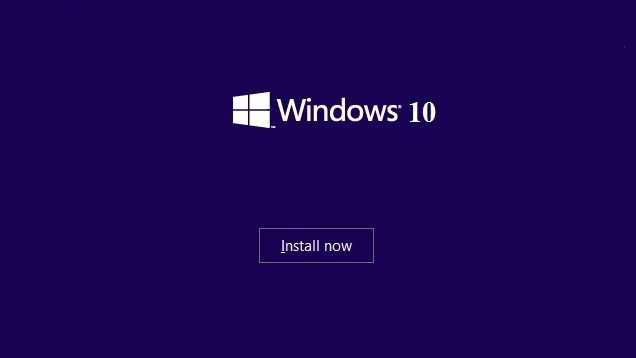 Since Microsoft Corporation mentioned several times that it is pre-released software and is expected to be very buggy and probably crash-prone. It's not advisable at all that you install this on your working machine or anything you need daily use. We will show you later on how to install it on a spare PC, or in a machine. If you are not sure if you want to install it, our video walk through may give you a brief idea into what windows 10 looks and feels like.
What You Need to Install Windows 10:
Microsoft has developed the Windows Insider Program to allow users to test out the new versions of Windows – Windows 10. You might need to agree on a special terms and condition, During Accepting terms & conditions it shows a message "don't blame us if this breaks your stuff".
Once you have enrolled in the Windows Insider program, here's what you need:
A DVD or a USB device with large enough to hold a 4GB ISO file.
One of the Windows 10 ISO files
A computer to install Windows 10 on or a VirtualBox installed on your main machine.
As soon as you are skilled on the Insider Program, you'll be directed to download one of several ISO files. At present, there are four languages supported (Portugese Brazil , English, English UK, and Chinese Simplified) windows 10 and have both 32- and 64-bit configurations. Choose he version which matches your needs and let the download do its thing. Although you can want to choose a snack, as the downloads may range from 3-4GB, depending.

Outlook of Windows 10:
See the Desktop / appearances of Windows 10 from the following images.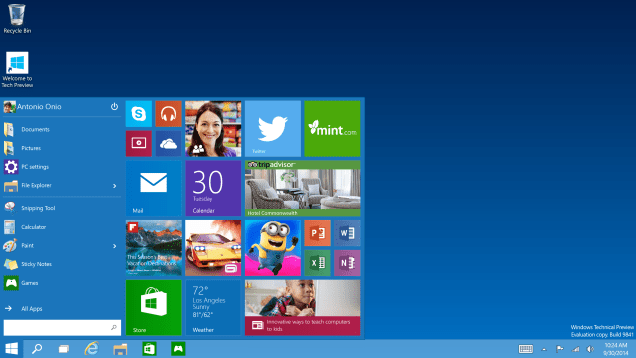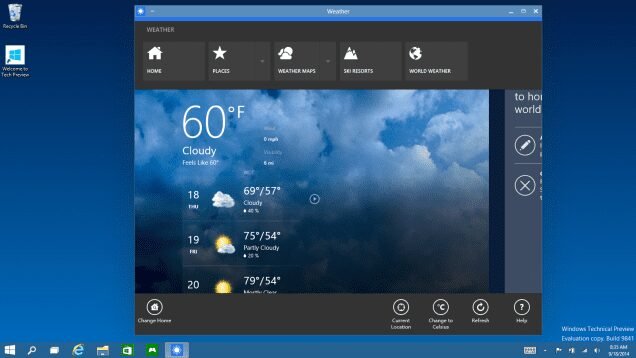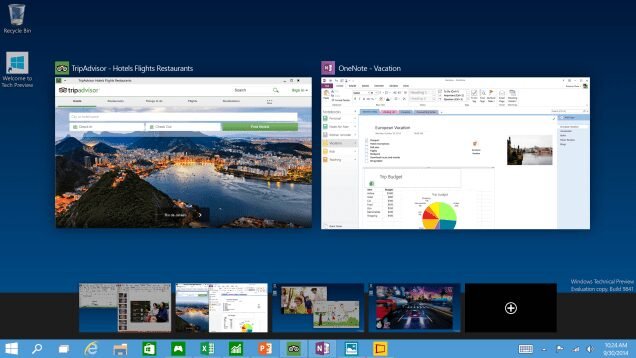 Option 1: Installation of Windows 10 (Technical Preview on Your PC)
Once you have everything you need, follow these steps:
At first, copy the ISO to a disk or USB drive. You  may use a tool like ImgBurn to unzip the files, although if you're installing on a device which is already running on Windows, the Operating System should be able to mount the ISO itself.
Then, Insert the disk or USB drive inyour PC which you want to install Windows 10 on.
If you have an older version of Windows (Win 8/Win7/Win XP) installed on that machine, start it up and double-click setup.exe from the installation media. If it is not, you can boot up your computer from the installation disc to start installation.
Finally, follow the wizards to install Windows 10 on your machine/computer.
Microsoft's wizard help you to progress the rest of the installation. If you want to do a fresh installation, make sure you choose to "Keep Nothing" during the wizard.
Option 2: Installation of Windows 10 (Technical Preview in VirtualBox)
If you don't have a spare machine, we recommend to install it into a VirtualBox. In this way, you can try it out, see what's new, and play around without overwriting your main system.
At first, Download and install the latest version of VirtualBox, and then, start it up.
Then, Click on the "New" button to create a new virtual machine.
After that, Give your operating system (OS) a name (like "Windows 10 Technical Preview") and choose Windows 8 from the list.
Next, Follow the VirtualBox wizard to set up your virtual machine and read more on VirtualBox's settings, but the default settings would be fine.
When it finishes, you would see your new machine in the left sidebar. Click on it and hit the Settings button at the top of the VirtualBox window.
Then, Head to Storage in the left hand sidebar, and next to "Controller: IDE", click the "Add CD" button.
Next, Select "Choose Disk" and navigate to your downloaded Windows 10 ISO.
Then, Click OK.
Finally, Press Start to start your new virtual machine and go through the Windows 10 installation process.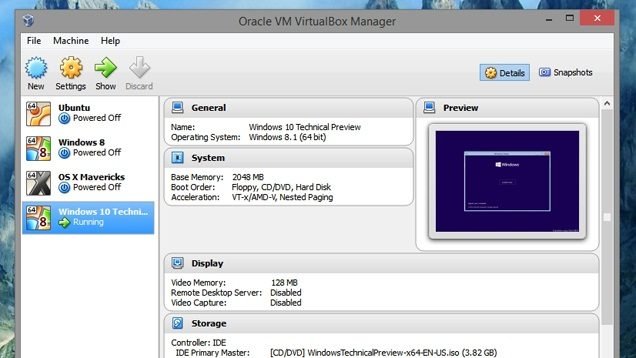 Remember that it is pre-released software, so, install it at your own risk! If you actually aren't interested in risking your machine, we'll be poring over the new Operating System to let you know what other cool stuff Windows 10 has in store over the next couple days. Best Wishes!