Nine-year-old Saif Mustafa Lateef is the current youngest hafeze quran. He has recently been awarded the title of the youngest memorizer (hafiz) of the entire Quran in the Iraqi city of Basra.
Competing with 1000 of Hafezul Quran from 10 provinces in a Quran reciting and memorizing contest, held recently in the holy Shia city of Karbala, Saif came first as the youngest hafiz, beating hundreds of memorizers of his age.
With some 4,500 participants in the program so far, it has now trained 550 Qurane Hafez, with the lion share of 250 Hafezes of the entire Quran in Basra alone, including Saif.
Saif was only 8 years old when he joined a local center for reciting and memorizing Quran in his district of Al-Medina, 100 km ( 62 miles) north of Basra city.
But his ability to memorize a large number of chapters in a relatively short time caught the attention of his teacher, prompting him to give the child more attention, according to Reuters.
"In the beginning, my father and my mother did not know that I have the ability to memorize (the Quran), but when the teacher, my teacher who teaches me, called them and told them how many pages I memorized, they started to realize and pay more attention to me. As a start I used to memorize three to five pages (of Quran) a day and after that the number of pages increased to 10 and then to 13 pages a day," said Saif.
According to his father, Mustafa, the youngster followed a strict timetable, spending five hours a day at the center after school learning to recite and memorize the Holy Book, and spending another three hours reading for revision when he returned home after sunset.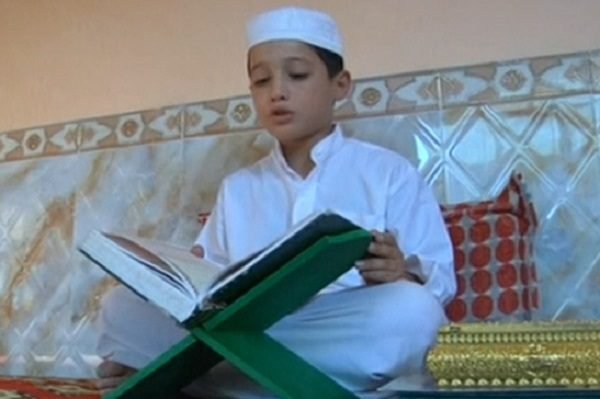 Mustafa said that he and Saif's mother initially didn't notice their son's talent.
"When he came home he memorized one to two pages (a day), but we did not notice what he was doing until his teacher called us and asked us to pay more attention to him, telling us that he had a good reputation at the center and he had a strong memory and that we should give him more attention. He also asked us to cooperate with the center to help him make further progress, thus the cooperation started," said Mustafa Lateef.
Soon Saif's fame spread across Basra city and his ability to quickly remember and recite the Quran from memory attracted people's attention.
"He became famous and people started to recognize him when they saw him walking in the street or in the market. They also started to follow up on his progress and knew how many pages he memorized and this had given us a boost to exert more efforts. This year he comes first as Iraq's youngest Hafiz (memorizer)," said Saif's father.
The young boy's Quran teacher also praised his student's commitment to the task.
"Saif Mustafa Lateef is one of the students at one of our courses and he is one of many other Huffaz (memorizers). He demonstrates obedience to the instructions of the teacher and he also enjoys support of his parents. He, and the other students all have a strong memory, and they are obedient when it comes to the instructions from the teacher, and this has enabled them to memorize the Quran in a short time, about one year," said Hamza Sabah Jassim who is also deputy head of the center.
Iraq holds an annual festival for the world's Quran memorizers and reciters.
In addition it also organizes numerous festivals and competitions for Quran memorizers in Iraq to promote love for the Holy Book among the young generation.