November 2017 has been a busy month for Canada's Express Entry system, with 4 draws over its first 3 weeks.
The weekly draws followed the Nov. 1 announcement by the Government of Canada of new multi-year immigration targets for 2018-2020. These targets could see a nearly 20 per cent increase in the number of candidates granted permanent residence through the three economic programs of the federal Express Entry system over that three-year period.
Since the announcement, a total of 5,545 Invitations To Apply (ITAs) have been issued in November alone, adding to an already record-breaking 2017 on the Express Entry front.
A total of 28 draws so far this year have seen more than 80,500 ITAs issued, compared to 33,782 ITAs issued in all of 2016 and 31,063 ITAs issued in 2015, the year the Express Entry system was introduced.
At the same time, Immigration, Refugees and Citizenship Canada (IRCC) has been able to largely respect its promise of a six-month processing time.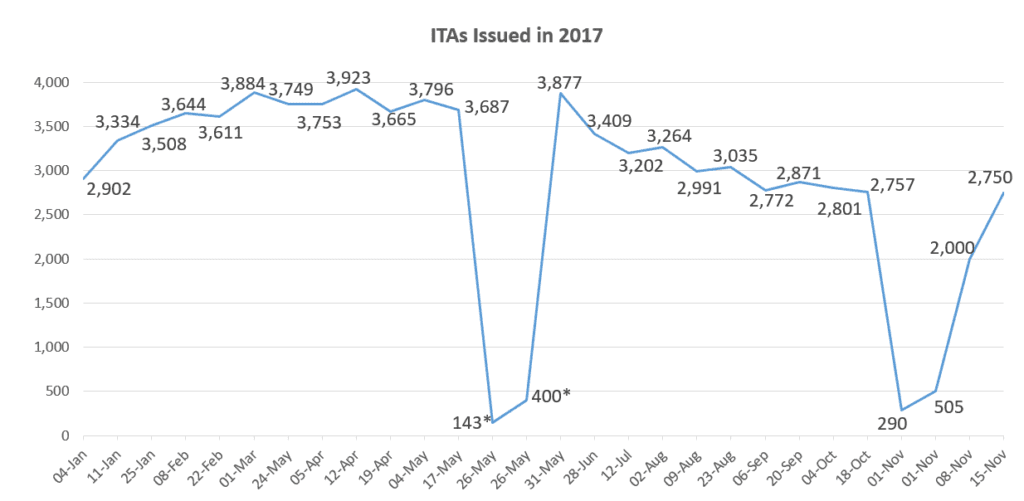 Higher targets, lower scores?
With higher targets set for Canada's economic immigration categories for 2018, IRCC will have to perform either larger or more frequent draws from Express Entry pool in the new year, or both. Each of those scenarios could have the effect of lowering the cut-off CRS score.
For the most part, CRS cut-off scores in 2017 have varied from the low 400s to high 450s, with scores in the 430s occurring most often. This is already a big improvement over 2016, which was characterized by draws with low ITAs and high CRS cut-off scores. The lowest CRS score in 2016 was 453. With more ITAs expected to be issued in 2018 than 2017, it is hoped the CRS scores will continue to drop even further.
A few exceptional 2017 draws are also worth noting, namely the May 26 and Nov. 1 draws that targeted candidates with provincial nominations and the Federal Skilled Trades Class (FSTC). Those draws saw scores both peak as high as 775 points for provincial nominees, who receive an extra 600 CRS points, and plummet as low as 199 for FSTC candidates, who are able to get into the Express Entry pool with lower language scores than candidates in the Federal Skilled Worker Class or the Canadian Experience Class.
Program-specific draws have had the noticeable effect of reducing the cut-off CRS score significantly, as seen with the FSTC-specific Express Entry draws. To date, however, there has not been a program-specific draw for candidates in the Federal Skilled Worker Class and it is therefore unknown what a cut-off for such a draw might look like.
"November has followed the trends of a dynamic 2017 for Canada's Express Entry system," said Attorney David Cohen. "There's reason to believe that 2018 will prove even more interesting, and rewarding, for candidates in the Express Entry pool."