Shasha Denims IPO Draw Result published (18th January 2015) in the morning at 10:00AM for the allotment of share among the applicants at the Engineering institute. CSE sources said Shasha Denims IPO draw result will be available online after 1:00 PM as well as results will be obtained on the company's official website www.shashadenim.com and Dhaka stock exchange's website. Bangladesh security exchange commission has already approved the company's share in 529th commission meeting. Shasha Denims Limited ipo lottery draw result has been published on 18 January 2015.
[button color="green" size="medium" link="http://www.dsebd.org/ipo_lottery_result.php" target="blank" ]Download Shasha Denims IPO Lottery Draw Result[/button]
ABOUT THE Shasha Denims IPO:
Shasha Denims Limited is involved in manufacturing of different Denim fabrics,weaving,dyeing and finishing products.
Shasha Denims is the leading denim fabric producer in Bangladesh since 2000. It is a professionally managed and technically sound organization located at Dhaka Export Processing Zone (DEPZ). Their plant is fully integrated with State of the Art technology and machinery from Switzerland, Germany, Belgium, and USA to give our valued customer the real classical Indigo Denim made with the best and most modern computerized SLASHER DYEING technology. With ever increasing acceptance of their quality fabrics and increase in demand the production capacities were expanded at regular intervals. Their production capacity is 1.8 million yards per month.
They make fabrics for Marks & Spencer, H&M, C&A, George, Polo, Next, sOliver, JC Penny, Tommy, Gap, Lee Hang Fat, Woolworth, Gulden Pfenning, Li & Fung and so on and deliver the largest quantity from Bangladesh.  They have the widest range of denim fabrics.
The machinery and the facilities are equally complemented with highly motivated and trained, skilled workforce who works round the clock to deliver the world class denim fabrics.  In the era of specialization we concentrate only in denim Fabrics. The concentration and continues improvement made them an expert in the Denim arena. This segmented concentration gives them the opportunity to serve our customers better. They are un-compromised in the field of quality and offer the best price accordingly. Most of their customers are world renowned and in number of cases they are the only nominated supplier for them from Bangladesh.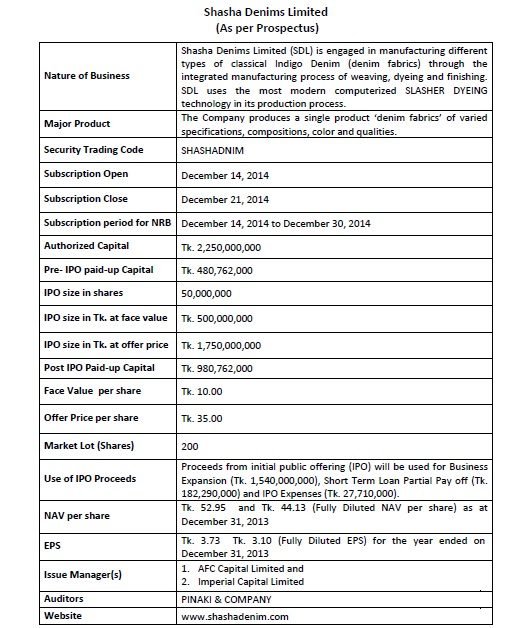 Shasha Denims Limited Office and Locations:
Mascot Plaza (10th Floor)
Plot-107/A, Sonargaon Janapath Road. Sector7,Uttara C/A, Dhaka 1230
Phone: +88 (02) 8952801-3
Factory Address and location of Shasha Denims Limited:
184-193,277 DEPZ (Extn.) Savar,Dhaka,Bangladesh
Phone: +88 (02) 7789302-5
Shasha Denims Limited's IPO share information:
Face Value 10Tk
offering price per share Tk. 35.00
Per lot share (200 shares)
Application details:
Application opening date was December 14, 2014
Last date of application December 21, 2014
The opportunity was available for the non-residents of Bangladesh (NRB) December 14, 2014 to December 30,2014
AS per financial statement for the year ended December 31 2013, their EPS (earning per share) was Tk. 3.73 which is fully diluted and net asset value Tk. 52.9 which was fully diluted per share.
AFC Capital Limited are responsible for the issue of management of company share. Proceed from initial public offering will be used for loan pay off,business expand and ipo expense.
To know more about the company, visit Shasha Denim's.
Download – Prospectus of Shasha Denims IPO