Wood Bending Technique is now a very popular technique in furniture manufacturing world. There are numerous ways of bending wood for the purpose of furniture manufacturing. Bent wood furniture is very popular furniture now-a-days and it is very profitable furniture business. But selection of wood bending technique is very important. You can bend wood by Kerfing wood bending method, Chemical Softening method, Veneer Wood Bending method etc. But they are more traditional wood bending methods. Today I will share a strange wood bending method. If you follow the following steps, you can bend your wood wonderfully.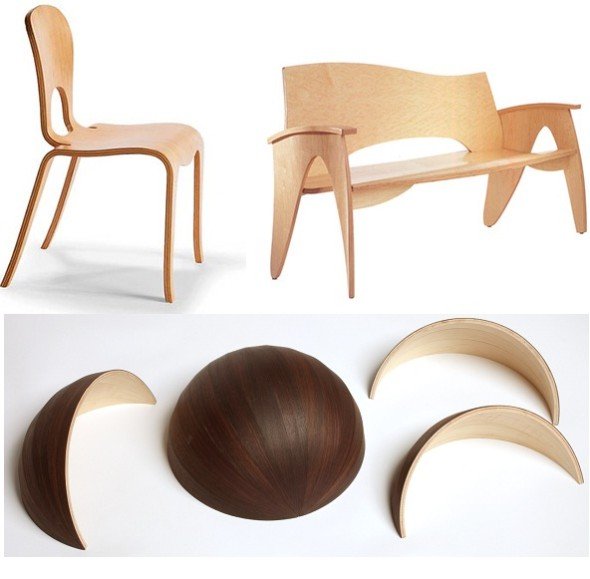 Steps of Strange Wood Bending Technique:
Select any type of wood flitch either it is soft or hard. You can use Oak Timber, Teak Timber or Rubber timber. But thickness of wood is important for bending. Less thickness is very good for excellent wood bending. You can use less than 20mm thick wood.
At first, arrange a tank of size 4'x8'x4'. Put 10-15% Alkali Water into the tank and heat up this water tank with a heater (either by electric heater and gas burner).  Temperature of the water may be 80-90 degree Centigrade.
Next, put some of the sized timber flitch or strip into the hot Alkali solution for about 24 hours. Make a bundle of these timber strips or flitch.
Then, compress this bundle of timber strip up to 10% (10% compression of this bundle of wood). Compression would be longitudinal. After 10% compression, elastic limit of the wood has been changed to plastic.
After that, take apart the wood strips from the timber bundle and press them with a hot press according to required shape or design. To get your required design or shape, you can use specific molds. After pressing for specific time (it may be 10-15 minutes – depends on wood strip thickness), wood strip goes to bend and after drying, it goes to permanent bent shape.
Thus, you can get your dreamt bent wood.
Bent wood by this process is more strong and durable. It is very good and permanent wood bending. It can be easily used for wonderful furniture manufacturing. You can make a bedroom set, living room set or dining set by this bent wood. In the modern world, bent wood furniture is very costly and profitable. You can make bent wood into different shape by using different shaped mold. So, are you ready to follow this process to bend your wood in this strange way? If you really like this process of bending wood, kindly share it to your friend's wall through social sharing sites.