Blog comments posts is one of the best ways to direct the visitor to your site. It is very important for SEO. You can get huge traffic to your site by putting comments into dofollow blogs. When you put your comments in a blog or create a back link for your blog, then, it would have be acceptable to Google, Yahoo, Bing etc search engines.
There are a lot of online Blog Commenting  job in freelancing sites like oDesk, Guru etc.  You can join in oDesk from below. Now I will give you some SEO-friendly tips for blog commenting.
Put Comments into Similar Blogs:
At first you have to search similar blogs like to your blog. To get a good back link, you have to write good comments. If you make foul comments, you will never get a good back link. Moreover, Google will track it as a bad link. If the site is related to Car Sale, but, you are putting comment on IT, it will return back bad result for your blog.
Put Comments into Popular Blogs:
You do not need to put your comments in all blogs. Find such blogs, where traffic is more and has high PR (Page Rank). You can find popular blogs through Google, Alexa etc.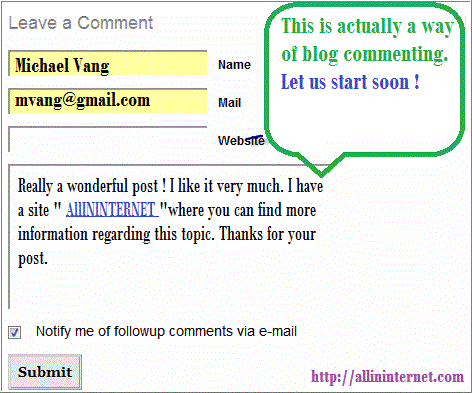 Put Comments into Similar Sites & Similar Posts:
Like above two tips, you have to follow this tip also to get good back links. When you are putting your comments into others blogs, you have to remember that you are putting your comments into similar posts or not. Say an example; if your keyword is SEO, you have to put your comments by giving importance on SEO keyword.
Put Dofollow Links into Your Comments:
Mind it, you have to ensure that your link should be live so that after clicking on this link visitor can enter into your blog. Generally, your link should be one way and should have anchor text. You should always try to put dofollow link. If it is not possible, at least, try to put your comment/write like following HTML code.
For example: SEO Tips
Try to keep your comments on upper side:
Generally, from first to fifth (1-5) comments on a post has more attention of visitor. Try to be first to fifth commenter so that visitor can go through your comments and follow you. In this way, visitor can follow your link.
Put the Name of Blogger during Posting or Commenting:
During publishing any post or putting any comments into a blog, you must give the name of blogger or commenter. Otherwise, Google count those comments as Spam. In spite of this, you have a responsibility to put your name during commenting. Sometimes, if your post or comments are liked by someone, he may want to go to your site clicking on your name.  But if you do not have your name, what will do the visitors then.  You can also write that "If you like my post or comment, please, share it to your friend". Thanks for going through my comment.
In parallel with the above tips, you can follow my other following tips:
Before commenting in a blog, go through the blog/post once.
Start from your name during commenting
Complete your comments. Do not put incomplete comments.
Never criticize blogger against his post. Rather, try to put suggestion type comments.
Do not copy and paste of others comments
Try to write your comments in easy language.
Try to put meaningful and short comments.
The following keywords' site accept comments, so, search dofollow blogs through these keywords.
KEYWORD "powered by wordpress"
KEYWORD "leave a comment"
KEYWORD "reply to post"
KEYWORD "leave comment"
I hope this post would help you a lot. If you really like it, share it to your friends, please. Thanks a lot for keeping patients during reading this post.