Living in Toronto! worried about the moves in toronto.Today we will discuss the best moving companies in Toronto for your relocations .
If you're looking for a way to make your move-in Toronto stress free and easier than ever, you'll want to consider the assistance of a professional moving company.
Whether you're moving from one side of the city to the other or across the province, a moving company out there can make your move easier than you ever could have imagined.
However, finding the right moving company for reliable moving services doesn't seem an easy task at all. Does it mean you'll be disappointed all the time? No way, till we're here for you. We've compiled a list of the 5 best moving companies in Toronto to help you out.
Whether you're looking for professional movers who will take care of all the details for you or want to handle everything yourself and save some cash, we've got you covered. So check out our top-rated and best Toronto movers list and start packing!
Read Now: BEST 5 KELOWNA MOVERS FOR YOUR ALL MOVES
List of The 5 Best Moving Companies in Toronto
We've gone through the customer satisfaction of these companies and looked into their price range, offered services, quality of the crews, and finally made a list based upon that. You won't be disappointed for sure.
1. Torex Moving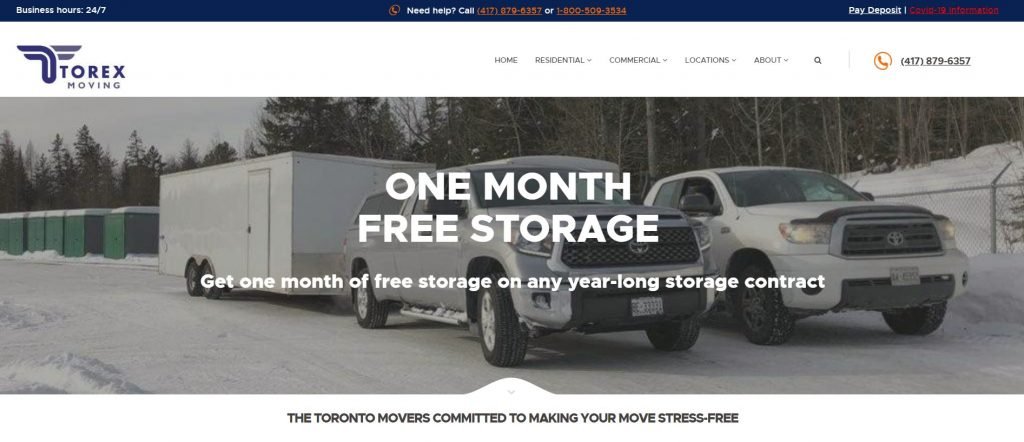 Torex Moving is a Toronto-based company specializing in all forms of moving services, from small apartment moves to lengthy cross-country moves. They're certified by the Canadian Professional Moving Association and have an A+ rating with the Better Business Bureau.
Torext Moving is one of the best moving companies in Toronto. The most significant of all services this moving company offers is their disassembling of furniture while preparing for moving. Besides, they offer packing services, unpacking services, lifting, storage services, and loading-unloading with utmost professionalism. The company has already handled projects of more than two thousand customers with a great satisfaction rate.
Customers report that Torex Moving is professional, efficient, and reliable – they always arrive on time and move everything smoothly. If you're looking for a moving company that can handle any size move and provide exceptional moving services by experienced professionals , Torex Moving is your best local movers in toronto.
Best For
moving services,storage services, packing services, unpacking services, Junk removal services
Offered Services
Single Item Moving, Small Moving Services, Piano Moving,Pool Table Moving, Appliance Moving, Long Distance Moving,House Cleaning, Junk Removal, Mobile Storage, Office Moving, Medical Facility Moving, Warehouse Moving, School & University Moving, Restaurants & Cafes Moving, Specialty Moving,residential and commercial moves
Official Website
https://www.torexmoving.ca/
Address
30 Roehampton Ave unit 2206, Toronto, ON M4P 0B9, Canada
Contacts & E-mails
(416) 238-4543


[email protected]

Operating Hours
All-time Open
Customer Reviews:
Harry Cole said: Thanks for providing me with great moving services. The movers were very professional and helpful. They took care of all my belongings and ensured that everything went perfectly with my move. I would definitely recommend this company to all my family and relatives who are planning on moving soon.
2. High-Level Movers
High-Level Movers based in Toronto, is a moving and storage company that specializes in the short-term storage of belongings while you're away. That means you can store your goods for a term of the period at their storage facility while you are sorting out a permanent residence to move.
They have over a decade of experience in the industry and are proud to offer "same day" service when you need your possessions moved.
Almost eight thousand customers with 5721 tons of goods have been moved successfully by them. They have an A+ rating with the Better Business Bureau.
Packing the goods is their most valuable specialty when you fear about your items that are fragile in nature. They offer both commercial moves and residential moves both locally and internationally.
Plus, the company also offers free estimates and move-in/move-out discounts. High-Level Movers is the best choice available for you in Toronto with the best moving services and experienced movers team, if you need to move your things in an emergency. As a result they are also one of the best moving companies in Toronto.
| | |
| --- | --- |
| Best For | Packing Service |
| Offered Services | Emergency Moving, Move locally, Storage Services, Distance Move, residential and commercial moves, Castoff Removal, Cleaning, packing supplies, Labour Services |
| Official Website | https://highlevelmovers.ca/movers-toronto/ |
| Address | 350 Supertest Rd., Toronto, ON M3J 2M2, Canada |
| Contacts & E-mails | 416-333-0259 |
| Operating Hours | Monday – Friday: 9 am to 5 pm |
Customer Reviews:
Lena Smith said: High Level Movers is highly professional and the customer service is stupendous!!! extremely careful. I have used them for two moves. One during the height of the Pandemic. They made me feel safe and secure.
The second move is cross country . They are so thorough in packing belongings securely.Moving can be an emotional experience. They are kind and funny too. This made me just relax and trust that my belongings are in good hands.I HIGHLY recommend using High Level Movers for your future move!!
3. Hercules Moving Company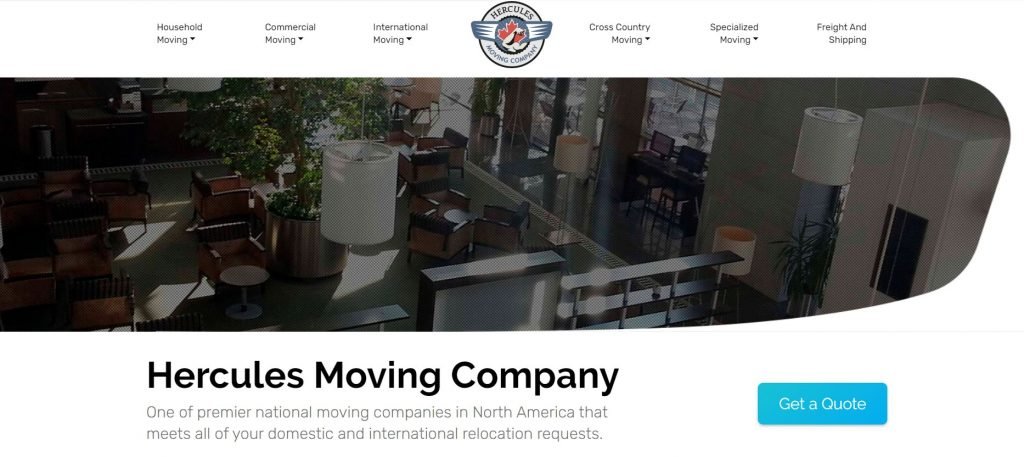 Hercules Moving Company is a great choice for comprehensive moving. They've operated with over 25 years of experience in the industry. You can trust Hercules Moving Company if you need to move fragile items.
The moving company has the extra space facility that helps when you need to move comprehensively. You can book them for both short and long moves as per your needs.
Overall, if you're looking for Toronto movers with the experience and resources to handle any size move, Hercules Moving Company is the best bet out there for your local moves in downtown Toronto.
Best For
Moving Comprehensively
Offered Services
Residential Moving service, commercial moving services, Freight Shipping, Cross Country Service/ long distance moves, International moving Service, Packing supplies and Unpacking services, Moving and Storage solutions, Moving Supplies, Labour Services
Official Website
https://herculesmoving.ca
Address
1008 Magnetic Dr. North York, ON M3J 2C4
Contacts & E-mails
1-844-462-6683
[email protected]
Operating Hours
Monday to Saturday: 6 am – 6 pmSunday: 9 am to 4 pm.
Customer Reviews:
Robbie Shifman said: We hired Hercules Moving a couple months ago for our move from downtown Toronto to North York. Igor and Simon did a great job scheduling everything as it was a bit of a complicated move and they answered any questions we had. The team was quick, professional, and attentive while we made a few stops before delivering everything to the new place. Things were well wrapped and protected and the team even stayed a little longer than expected to finish the job at no extra cost. Absolutely No#1 Toronto Moving Company. will surely hire them for our future moves
4. Number 1 Movers
Number 1 Movers is a Toronto-based award winning moving company that provides moving services to residential and commercial clients in the greater Toronto area. It's one of the best moving companies in Toronto for your cross-country move and your international move. Its Also one of the best storage companies in Toronto
The best thing about Number 1 Movers is that they offer a wide range of reliable moving services which cover almost any kind of moving needs. They also offer free wardrobe services. As a precaution against any unwanted accident, every crew is protected with insurance by the Workplace Safety and Insurance Board.
Last but not least, you can pay Number 1 Movers with all types of major credit cards available such as Mastercard, American Express card, Visa card, and also includes PayPal.
Best For
Long Distance Moving
Offered Services
Residential Moving, Senior Moving, commercial moving services, Storage solutions, Packing supplies, Office Move, Labour Services, plastic moving bins rental
Official Website
https://number1movers.ca/
Address
28 Rowanwood St, Hamilton, ON L8L 7H3, Canada
Contacts & E-mails
(877) 270-3202


[email protected]

Operating Hours
Monday to Friday: 8:30 am to 5 am
Saturday: 9 am to 3 pm
Customer Reviews:
Muller rose said: This company helped us with a local move and I honestly can't recommend them enough! extremely careful. They arrived early and had a thorough conversation about our needs. Number1Movers definitely made it easier for us and cared a lot about fitting as much as they could while protecting our furniture and moving quickly… Really great service and very easy to work with. Highly recommend. The company is one of the best moving companies in Toronto.
5. Cargo Cabbie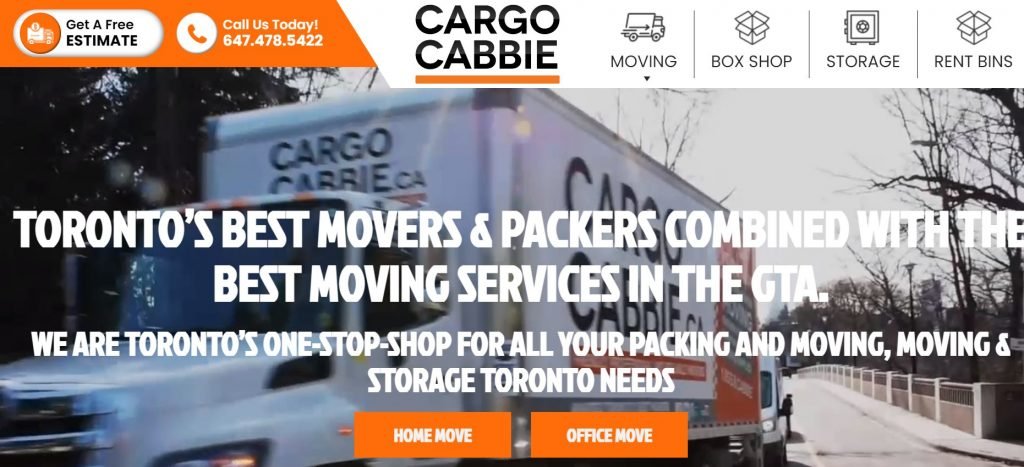 Cargo Cabbie is a Toronto-based trucking company specializing in moving large and heavy items, Also One of the best movers in Toronto.They've been in business for over 10 years and are certified by the Canadian Professional Moving Association.
They are also registered with SafePack, which means they're authorized to transport valuable items securely and adequately packed. Their moving vehicles are the main attraction of their services.
The moving vans are of the finest quality and equipped with the latest technology. More than that, their vans are probably the cleanest ones you may find out there. Also, they often run training for their crew and check their work rigorously to ensure that your goods are in safe hands while moving.
If you're looking for a professional trucking company that is consistent, always available for appointment, and highly efficient, Cargo Cabbie is the only choice you can expect. Also they are the best movers in toronto with customized moving services with excellent customer service
| | |
| --- | --- |
| Best For | Personalized Move |
| Offered Services | Local Moving, Office Move, Long Distance Moving, Storage solutions, FURNITURE ASSEMBLY services, PLASTIC BIN RENTALs, EXPRESS FURNITURE MOVING, Labour Services |
| Official Website | https://www.cargocabbie.ca |
| Address | 105 Brockhouse Rd, Toronto, ON M8W 2W9 (Kipling & The Gardiner) |
| Contacts & E-mails | (647) 478-5422 |
| Operating Hours | Appointment Basis |
Customer Reviews:
Sarah Shaw said: Our house had a fast close and I called Cargo Cabbie with 2 weeks before we needed to be out of the house. Excellent customer service on the phone, I sent photos of what was being moved the next day and then we had confirmation and all was good. I had requested packing services of my closets and kitchen and they quoted for all the boxes we might need – so quote was high, but they told me on the phone I would only pay for what was used the day of.
Day of rolled around and we were ready to go. Movers arrived on time.Our crew of 3 with Benjamin as lead showed up with smiles and were happy to get started. Personable, capable and careful, the 3 of them got right to work and packed up everything. They were so polite, I had to get my husband to relocate me from my desk so they could move it – didn't want to disturb me. Benjamin took the time to go through our supply usage, discussed what would happen next and that was it. Later that afternoon we received our final invoice, which reflected the supplies we used and all was within reason.
We were storing our items until our next place is ready so we hope to see that crew again when we are ready to move in. Thanks to Cargo Cabbie for making a stressful day so much less stressful and having employees who represent your company so well. They were wonderful, and I can't say enough positive things about the professionalism of our crew. I will recommend this moving company to anyone I know who is moving, they are amazing!
Benefits of Using A Moving Company in Toronto
There are many benefits to using a professional moving company in Toronto. Some of the benefits include:
Faster Move
Using professional movers will usually move your items faster than yourself. This is because they have the experience and know-how to safely pack and transport delicate items by reliable moving crew .
Better Quality
All of the Toronto movers are certified by Canada's National Packing Council, which means their packing skills are top-notch. They'll use the appropriate packing materials and equipment to protect your items properly.
More Flexible Options
With a professional moving company, you can choose from various flexible delivery options. This includes scheduled or on-demand moves and pickups and drop-offs at your new home or office.
Peace of Mind
Having a moving company handle the entire relocation process will give you peace of mind during this stressful time. They'll take care of everything from packing and loading the truck to ensuring your items are delivered on time and perfectly.
Read Now: CHOOSE THE RIGHT CALGARY MOVING COMPANIES
How to Choose The Best Movers in Toronto
To begin with, be sure to get an estimate of the cost of the move so that you're not surprised by any hidden charges later on. Also, make sure to schedule your move as soon as possible so that everything goes as planned.
There are a few things you should consider when choosing a moving company. Including:
Price
Moving can be expensive, so find a company that offers affordable rates.
Quality of Service
The quality of service your chosen mover provides is key. Ensure they have been certified by the Canadian Professional Moving Association and have years of experience in the moving industry. Also ensure they have the best movers for your relocations.
Delivery Options
Think about which delivery options are best for you. Some movers offer scheduled moves, while others can be arranged on-demand or even picked up at your new home or office.
Packing Services and Quality Moving Services
Ensure to inquire about the packing and moving services offered by the moving company you're considering. This will help ensure that your belongings are adequately protected during transport.
Frequently Asked Questions
Which is The Best Moving Company in Toronto?
answer as to which is the best moving company in Toronto. However, any of the listed companies above can be the best choice for you. They are providing quality moving services and quality packing skills, making them perfect for any size move.
What Makes One Moving Company Better Than Another? 
Just like there's no one-size-fits-all answer to this question, there isn't necessarily a definitive answer to which moving company is the better option. However, factors that may make certain companies better than others include:
1. Availability
2. Services
3. Efficiency
4. Price
What are Some Tips to Make Sure Your Move Goes Smoothly and Quickly With  Professional movers in Toronto? 
Some tips to make your move go smoothly and quickly with  reputable and best movers in Toronto include:
Plan Ahead: Make sure to have a clear idea of what you want to be moved and when. This will help the movers create a specific moving plan for your needs.
Prepare Your Home: One of the biggest mistakes people make during a move is not taking adequate time to prep their home beforehand. This includes cleaning, preparing all the furniture, and putting away any belongings that will be moved.
Choose the Right Movers: When choosing a mover, it is important to consider their reputation and experience in the moving industry carefully. Look for an organization with a good track record of customer satisfaction.
What is The Average Cost of Hiring Movers in Toronto?
The average cost of movers in Toronto will vary depending on the size and quantity of your move. However, some common costs associated with a Toronto mover include
Truck rental: This is likely to be the most expensive component of your move, costing around $100 per day.
Packing and loading services: Depending on the moving company you choose, this can range from free to a fee ranging from $50-$150 per hour.
Unpacking and re-positioning services: This can also range in price but is generally less expensive than packing and loading services. 
Concluding Remarks
It can be tricky to decide to hire a moving company. Since we've compiled the 5 best moving companies in Toronto based on their experience, quality of services, and customer satisfaction ratings, it shouldn't be a hassle anymore.
However, if you're still confused about going with one, we can suggest Cargo Cabbie. This is because you can personalize your moving along with their experts to make sure that your belongings have been moved just like you want them to. Check our moving checklist