There's no doubt that there are a lot of moving companies in Vancouver. And identifying the best and most reliable among them can be pretty hard.
Because the last thing you would want to see happen to you is a situation where you hire a Vancouver mover that doesn't meet your expectations.
Therefore, knowing the best from the rest can be tricky, and that's precisely why we've put this list together for you.
In this article, you'll learn about the 10 best Vancouver movers you can call to help you make a smart move. (Pun intended.)
With that said, let's hop right into it.
How Much Does It Cost to Hire Vancouver Movers?
The rate for moving services varies across each moving company in Vancouver.
So, there's no way to get a fixed price on how much it's going to cost you. However, factors like distance, items to be transported, and the prevalent season can influence the price and are factors to be considered carefully.
In a moment, you will see a table containing the average moving price for different bedroom sizes and the number of hours it's going to take.
By the way, special services like boxing, storage, highly valuable items, or oversized objects will most certainly attract additional fees, so it's good to have that in mind just in case.
These additional fees are not included in the table.
| | | |
| --- | --- | --- |
| Size of your home | Estimated Duration | Average Price Range |
| 1 bedroom | 3-5 hours | $260 – $655 |
| 2 bedroom | 5-7 hours | $525 – $900 |
| 3 bedroom | 7-10 hours | $735 – $1,300 |
| 4 bedroom | 10+ hours | $1,048 – $2,600+ |
Maybe You should read this post before you start packing for your move: Moving Checklist – Best Way to Prepare Yourself For The Move
The Best 10 Vancouver Movers
Moving to a new site all by yourself can be stressful and time-consuming. But it doesn't necessarily have to be so. There are professionals who are well trained to help you out whenever you need to make a smooth move.
These people know how to get the job done in a way that gives you complete peace of mind. They take the stress off your shoulders and place it on theirs.
So, for a stress-free relocation, here are the 10 best Vancouver movers we recommend you consider:
1. Salmon's Transfer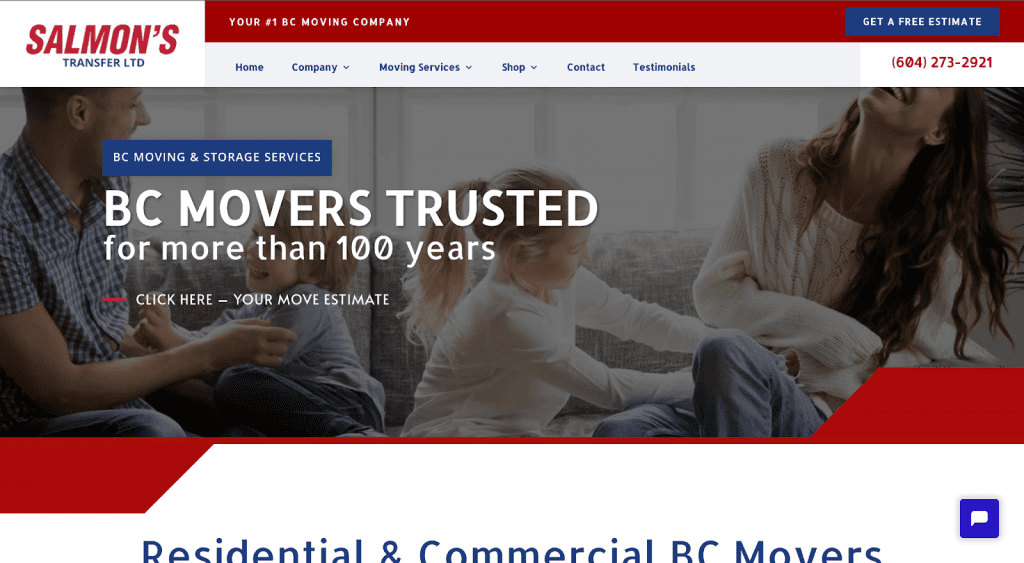 | | |
| --- | --- |
| SERVICES | Moving and storage, long distance, local and commercial moves, piano, office, and lots more. |
| WEBSITE | https://salmonstransfer.com/ |
| ADDRESS | 100-9500 Van Horne Way,Richmond, BC V6X 1W3 |
| CONTACT DETAILS | (604) 273-2921 |
| ACTIVE HOURS | Monday – Friday: 8 am-4:30 pmSaturday: 7 am-2 pm(British Columbia Day): Hours might differ |
Best known for their incredible local and long-distance moving services within Canada.
Salmon's Transfer is one of the reputable employee-owned moving companies in Canada.
Having grown over the years (50 years to be precise), it has not stopped providing hassle-free moving services to its clients.
From office relocation, local and long-distance moving, to piano or special item moving, they offer one of the best moving services across Canada and North America.
In the beautiful city of Richmond, Salmon's Transfer is a premium moving company for Greater Vancouver in partnership with Platinum Agent for Atlas Van Lines (Canada) Ltd.
That's not all. They also have a 30,000 sq. ft. warehouse and storage facility specially built to serve you.
Customer Review
"We used Salmon's Transfer to have a piano picked up from Coquitlam and delivered to our home in west Vancouver." Kirk is in charge of piano transfers and was super responsive, by phone and email. He also offered the best quote of a few local delivery places–at around $400, we paid over $200 less than some of the other quotes. Thanks, Kirk & team!"
2. Metropolitan Movers Vancouver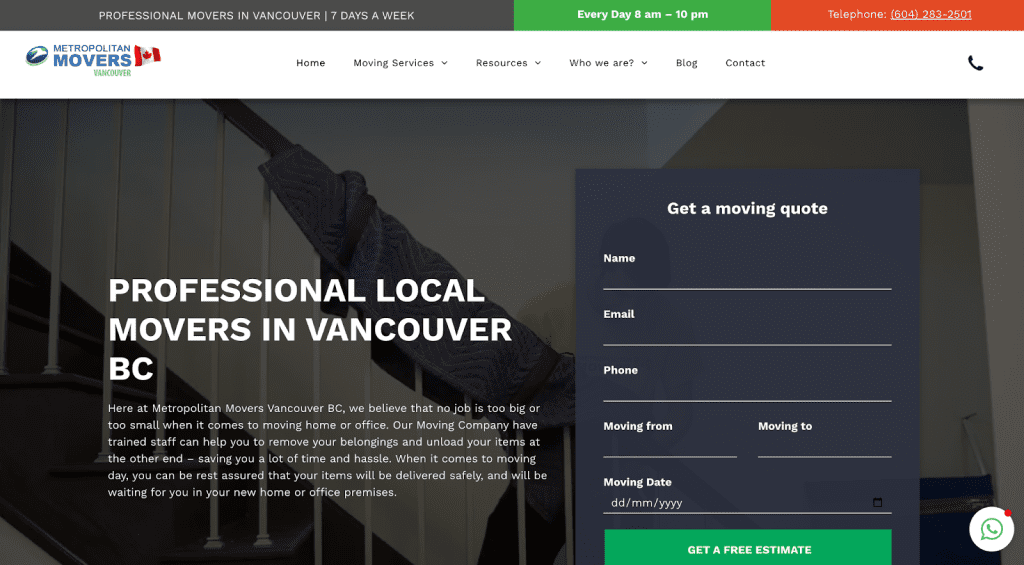 SERVICES
House Movers,Home Deliveries,Packing Services,Piano Movers,Long Distance Moving,Moving Seniors,Storage Services,Business Deliveries,Freight Services,Office Movers,Workstation Moving
WEBSITE
https://www.metromoversvancouver.ca/
ADDRESS
1068 Hornby St, Unit 1102, Vancouver BC V6Z 2Y7
CONTACT DETAILS
+1 604-283-2501

[email protected]

ACTIVE HOURS
8:00 am to 10:00 pm (Monday – Friday)
9:00 am to 7:00 pm (Weekends)
An award-winning, moving company based in Vancouver. They offer a wide range of moving services and are well known for how they treat customers.
They've been in operation since 2010 and have an A+ rating with the Better Business Bureau, showing their credibility.
Customers like them for how flexible and time conscious they are towards their needs and requests.
You can schedule your move during the weekend or any time of the day provided it falls within the official operating hours.
Customer Review
"The two movers that were assigned to us were quick, efficient, polite, and took very good care of our belongings. Nothing was damaged, and it was overall a painless process. They even reconfigured our L-shaped sofa to better suit our new place. Would definitely hire again." –Sean Armenta
3. 2 Burley Men Moving
SERVICES
Local moving, Long distance residential moving, Storage boxes & moving supplies.
WEBSITE
https://2burleymen.ca/
ADDRESS
785 Lampson St, Victoria, BC V9A 6A9, Canada
CONTACT DETAILS
1-844-849-4558+1 250-686-6507

[email protected]

ACTIVE HOURS
8:00 am to 10:00 pm (Monday – Saturday)
8:00 am to 8:00 pm (Sundays only)
Established in 2007 and based in Vancouver. The 2 Burley Men Moving Company takes pride in exceptional customer experience.
They reportedly complete up to a thousand moves per month. Plus, they can take you as far as east Toronto and several other locations you can find on their website.
They also provide affordable and secure storage and packing services.
You'll literally find everything you need for a stress-free relocation with the 2 Burley Men Moving company.
And that kind of convenience is the primary reason we include them in this list for you.
Customer Review
"Outstanding service in all aspects. They are the best vancouver movers. I appreciated the email, text and call to confirm my move date. They showed up right on time. Tyrone and Ainsworth were very careful and wrapped my furniture. They worked efficiently and very well together. I highly recommend them." –Valerie Taylor
4. Movex
SERVICES
Commercial Moving and Storage Services
WEBSITE
https://www.movex.ca/
ADDRESS
1146 Franklin Street Vancouver, B.C. V6A 1J6
CONTACT DETAILS
604-687-1896

[email protected]

ACTIVE HOURS
Call for more details.
Movex is an independent, professional moving company that was established in the year 1981 to provide commercial moving services only.
They have a well-trained workforce that knows how to handle, disassemble, assemble and package your belongings for a stress-free move.
They also go further to provide disposal services to clients who have items they no longer have a need for.
You can count on Movex for all your moving needs because they have the staff, facility, vehicles, and experience required to make your move an absolute breeze.
Customer Review
"Movex was great! We used them for a recent office move and it was perfectly seamless. The guys were very prompt, super quick to get organized and packed everything up efficiently. We had an unconventional move and a few last minute changes and they accommodated us without hesitation. Would recommend and use again." – Bronwyn Livingston
5. Ferguson Moving & Storage
SERVICES
Local move, Long distance and international move, Residential move, Office move, Packing service, Storage service
WEBSITE
https://fergusonmoving.com/
ADDRESS
1584 Columbia St, North Vancouver, BC V7J 1A4, Canada
CONTACT DETAILS
+1 604-922-2212

[email protected]

ACTIVE HOURS
8:00 am to 5:00 pm (Monday – Friday)
8:00 am to 12:00 pm (Saturday)
Established in 1916, Ferguson Moving and Storage is one of the oldest moving companies in Canada.
Initially, they only offered warehouse services but have now grown to include moving services as well.
The moment you request a quote, they will assign a special manager to handle all your moving needs from start to finish.
The best part is, if the move takes longer than expected, you won't have to pay any extra fees.
Plus, they also provide packing services and supplies to interested clients to ease the stress involved when making a move.
Customer Review
"The move was so smooth and professional. The team moved everything flawlessly in a timely manner, and I did not have to worry about anything. They carefully wrapped all the furniture. It was a very good experience. 10/10, highly recommended. " –Wenchen Zhao
6. Rainforest Moving & Storage
SERVICES
Moving, Storage, Packing and Unpacking, Furniture Disassembly, Packing Supplies And More
WEBSITE
https://rainforestmoving.com/
ADDRESS
8211 Sea Island Way Richmond, BC V6X 3A3
CONTACT DETAILS
(604) 833-8174

[email protected]

ACTIVE HOURS
Monday – Sunday. 6:00 am to 10:00 pm
Being one of the most trusted movers in Vancouver, Richmond, Surrey, Delta, North Vancouver, Langley, Burnaby, and New Westminster definitely says a lot about this company and how they treat their customers.
Rainforest Moving and Storage understands that no two clients are alike and that their needs are quite different.
So, they use different approaches tailored to meet the specific needs of every customer.
Whether large, medium or small, the staff at Rainforest will do everything to make sure you don't have to worry about making your move.
They basically take the burden off your shoulders and put it on theirs to give you the best moving experience possible.
Customer Review
"On time, friendly and efficient. A stress-free experience from making the reservation to the end of our move. We will use them again!"
7. Home Run Movers
SERVICES
Residential moving,Commercial moving (Small and medium size),Delivery service,Junk removal
WEBSITE
https://homerunmovers.com/
ADDRESS
1104 Clark Dr. Vancouver, BC V5L 3K3, #110, Canada
CONTACT DETAILS
+1 855-882-1982

[email protected]

ACTIVE HOURS
9:00 am to 6:00 pm (Monday – Friday)10:00 am to 6:00 pm (Saturday – Sunday)
Home Run Movers are based in Vancouver and specialize in both small and medium scale commercial moves within Canada.
However, they also provide residential moves, delivery services, and junk removal.
There's actually no project too large for the Home Run Movers. If it can fit in their truck, they will move the item to the destination of your choice.
Beyond that, customers love hiring them because they don't charge extra for fuel, stairs, or other hidden costs.
They are always on time and on budget. As if that's not enough, they go on to recycle, repurpose, and donate your junk to not only save you money but to also help keep the environment clean.
Customer Review
"Great service provided by Ty and his team. They were professional and polite the entire time. Our apt building is not the easiest to navigate, and they made sure nothing was damaged. Thank you very much for your help. " –Jia Wei
8. Smoother Movers
SERVICES
Residential Moving, Piano Moving, Storage
WEBSITE
https://www.movers.ca/
ADDRESS
1580 Bay StreetNorth Vancouver, BC V7J 1A1
CONTACT DETAILS
North Vancouver: (604) 987-8655Vancouver: (604) 682-2232Toll-Free: 1-888-766-8555Storage: 604 980-6683Fax: (604) 980-2103Email:

[email protected]

ACTIVE HOURS
Monday to Sunday: 8:00 AM – 8:00 PM
Moving on, we have Smoother Movers. As you can already tell from the name- they make every relocation smooth and, literally, a piece of cake.
Smoother Movers is a mid-sized company that started operations in 1981 with only one truck to its name. But that didn't stop them from giving the people of Vancouver a top-notch moving service.
They mostly move pianos since it's their area of specialty, and that also makes them unique because only a few moving companies move instrumental items, mainly because of how fragile they are, but smoother movers know how to handle any project that comes their way with no room for errors or damage whatsoever.
Besides that, they also offer their storage facility for clients who want to store properties ahead of a move.
And, you don't have to worry about the safety of your property because Smoother Movers are licensed and insured under the appropriate authorities to render moving services across British Columbia.
They particularly have a USDOT/Motor Carrier license, which makes them a reliable company to work with when it comes to anything that has to do with making a move or relocating your family to a new location.
Customer Review
"Smoother movers are the way to go. They showed up on time, with positive attitudes and a good work ethic. We moved from a 2 bedroom apartment into a house within 3 hours. They knew all the tricks and were very well organized. Blaine, Gab, and Jordan were super personable and funny! We were so lucky to have them help us move into our first home. We will definitely recommend your company going forward. Can't thank you guys enough!" – Ryan Roberts
9. BigSteelBox
| | |
| --- | --- |
| SERVICES | Local and long-distance residential and commercial moving,Storage Container, MovingBoxes and packing supplies, Packing services, Renting or selling shipping containers |
| WEBSITE | https://www.bigsteelbox.com/ |
| ADDRESS | 880 Lougheed Hwy, Port Coquitlam, BC V3C 6K1, Canada |
| CONTACT DETAILS | +1 604-944-9744 1-800-373-1187 |
| ACTIVE HOURS | 8:00 am to 5:00 pm (Monday-Friday) |
It goes without saying that relocating from one place to another is no small task, especially when you are the type that owns a lot of valuable possessions.
But don't freak out just yet because BigSteelBox has you covered. BigSteelBox, interesting enough, is a family-owned moving company, which makes them the perfect choice when you have to move with your family because they understand the importance of having your loved ones on the road and the special type of bond that family members share among themselves.
It was founded and established in the year 1999 and so far has branches in multiple locations across British Columbia, Ontario, Alberta, Saskatchewan, and Manitoba.
So, basically, you can call them your next-door moving company because they are in virtually all the major cities.
The reason why customers patronize and will continue to patronize BigSteelBox is the fact that you, as a customer, can take the time to arrange and pack at your pace. There's no pressure from the management or staff that's going to piss you off.
Other than long-distance and domestic moves, they also rent and sell shipping containers. These containers can be used for either moving, storage, or perhaps, a container office.
They are reliable, licensed, and insured to deliver the best possible moving experience for all their clients so you should check them out the next time you plan a move.
Customer Review
"These guys are great. I had my belongings moved from a storage locker from one province to another. I had the pleasure of having Jagger Gravel look after my move. I called and emailed him a million times, and he was always so pleasant. It was loaded by a super great friend of mine from a locker into a big steel box. From there, it was brought to a safe storage location in the current province for a few days until I could get a city permit to park on my street. I went there when they told me to pick it up as promised. There were many things out of my control, but it went like clockwork. Thanks, Jagger, you are a star!!!!" -Linda Norton
10. Cheap Movers Vancouver
| | |
| --- | --- |
| SERVICES | Residential Moving,Deliveries & Small Moves,Commercial Moving |
| WEBSITE | https://www.cheapmoversvancouver.com/ |
| ADDRESS | 321 Princess Ave #611Vancouver, BC V6A 3C6 |
| CONTACT DETAILS | 778 656 1420 |
| ACTIVE HOURS | 24/7 |
A lot of people might misread the name of this moving company and say that they go by the name "cheap" because their services aren't that good and, as a result, they offer cheap prices to their customers. Absolutely not.
Of course, they offer affordable moving services, but when it comes to the quality of their services, it's beyond impressive, to say the least.
With one of the most experienced movers in the industry by far and the largest fleet of vehicles, they stand to be one of the best and most reliable movers available.
Their method of accessing every move is quite different too. First of all, before anything else, they take a close look at the exact inventory of your move with an in-home, video, or virtual estimate.
Thereafter, they come up with strategic ways to ensure the move goes as planned and that none of your possessions are damaged along the way.
Cheap Movers Vancouver makes moving and relocation, in general, a positive experience where everybody involved enjoys the process every step of the way!
Customer review
"HIGHLY RECOMMEND this company because Tom is excellent to deal with: swift to respond, friendly, professional, on-time and on-schedule, and flexible to help with what was an urgent need in our family. And when bridge-traffic accidents threatened the scheduled delivery time, we were contacted to be prepared for a short delay. But in the end Tom and the team arrived on time with our item." – Sharon Forsyth
How to Choose a Good Moving Company
When choosing a moving company, it's essential to consider a few factors. Here are three prime concerns on choosing a good moving company:
Price
Moving costs can vary greatly depending on the size and complexity of your move. So, you've to find a company with reasonable rates that fit your budget.
Quality of Service
To find a company with a high quality of service is also very important. Look for companies with experienced crews and thorough packing and moving procedures.
Availability
Make sure the moving company you choose is available when you need them. Be sure to schedule a consultation to get an idea of their rates and services.
Customer Review
"On time, polite and efficient. Well done!"
You can read this article for detailed explaination: How To Choose The Best Moving Company For You
FAQs
How much are movers in Vancouver?
House moving: $120-$1046
Local moving: $2100 – $5300
Long distance moving: $450 – $1698
Packing & Moving: $500 – $5930
What is the cheapest way to move within Canada?
The DIY method for moving within Canada goes like this: get a moving container, rent a truck, and hire full-service movers.
How can I ensure that my move is completed on time and without any problems? 
The best way to ensure your move is completed on time and without any problems is to consult with the chosen moving company. During this consultation, they'll be able to provide an estimate of the cost and timeline of your move and answer any questions you may have.
Is there anything else I should consider when hiring a moving company? 
It'd be best to consider a few other factors when choosing a moving company to hire. These include the quality of their crews and packing procedures and their rates and availability.
Should I use only one or two movers, or should I ask for a quote from several companies to get the best deal? 
's always beneficial to get a quote from several different companies to get the best price. You can compare prices and choose the company that offers the best deal for your move.
Conclusion
There you have it- the 10 Best Vancouver Movers for a stress-free relocation. In other words, you won't have to do any more research. With this list, you now have the best options to explore for your next move.
So, with all that said, I wish you good luck on your move!
You can checkout the following articles: