The rise of electric cars has been a major factor in the push towards a more sustainable future. However, one of the major challenges electric car owners face is the availability of charging stations.
Electric car charging stations are vital infrastructure that allows electric vehicle owners to charge their vehicles on the go. In this article, we will look at the top 5 EV chargers manufacturers who are playing a crucial role in developing this infrastructure.
The Top 5 EV Charging Stations manufacturers
ChargePoint – Known for fast charging
Electrly – Overall the best
Blink – Most liked
EVgo – Known for their innovative products
EVCS – One of the most reliable
1. ChargePoint

ChargePoint, as one of the best manufacturers of EV charging stations, offers various charging options, including Level 2 and DC fast charging solutions. The company was founded in 2007 and has since built a vast network of charging stations across North America and Europe, making it one of the largest charging station providers in the world.
ChargePoint offers its customers advanced features, including locating, reserving, and paying for charging stations through its mobile app. The company's charging stations are also integrated with various third-party systems, enabling fleet management, energy management, and other value-added services.
ChargePoint's Level 2 chargers have a maximum power output of up to 80 amps and 25 miles of range per hour of charging. The DC fast charging solutions can charge up to 500 miles of range per hour, making them a great option for quick recharging on long road trips.
ChargePoint partners with several major automakers, including BMW, Audi, and Mercedes-Benz, to provide home charging solutions for their electric vehicles. The company also offers customized solutions for commercial and residential property owners, making it a versatile option for various industries.
2. Electrly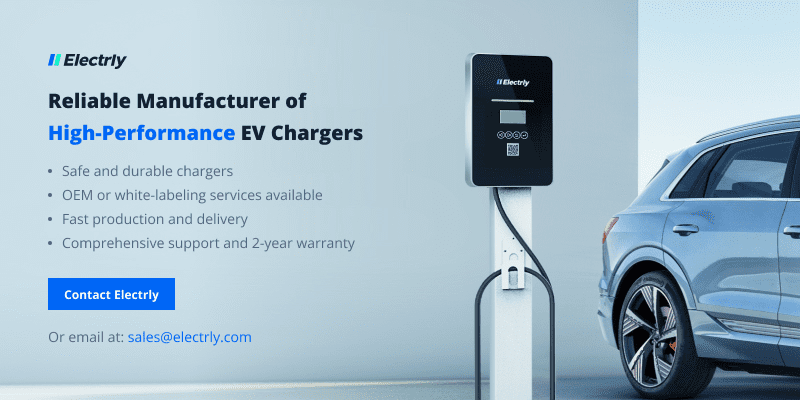 Electrly, as one of the best EV charging solutions manufacturers, that aims to provide the most intelligent and convenient EV charging options for all drivers and industries. They offer a wide range of EV chargers, including portable, Level 1 and Level 2 AC chargers, DC fast chargers, power modules, and more. One of their key advantages is their wide range of charging options, accommodating various charging preferences with different charging standards.
In addition to their products, Electrly provides customized solutions to meet the unique charging needs of different scenarios and industries, including workplaces, entertainment venues, parking lots, utilities, and homes. They have an in-house quality control lab and manufacture their EV chargers under controlled conditions to ensure the quality of each item.
Electrly sources from industry-leading companies such as Schneider and Siemens, ensuring that their EV charging products are manufactured with the finest and most reliable components. With competitive prices, a customer-centered policy, and an impressive efficiency rate of 96%, Electrly is committed to providing top-notch safety and quality for all their EV chargers.
Their intelligent management system allows businesses to remotely monitor and manage their charging stations through their cloud-based platform, empowering them to track revenue and receive real-time reports on energy usage. With personalised branding, smart load management systems, and wholesale discounts, Electrly is a reliable partner for businesses and property owners looking to set up EV charging stations within their premises.
3. Blink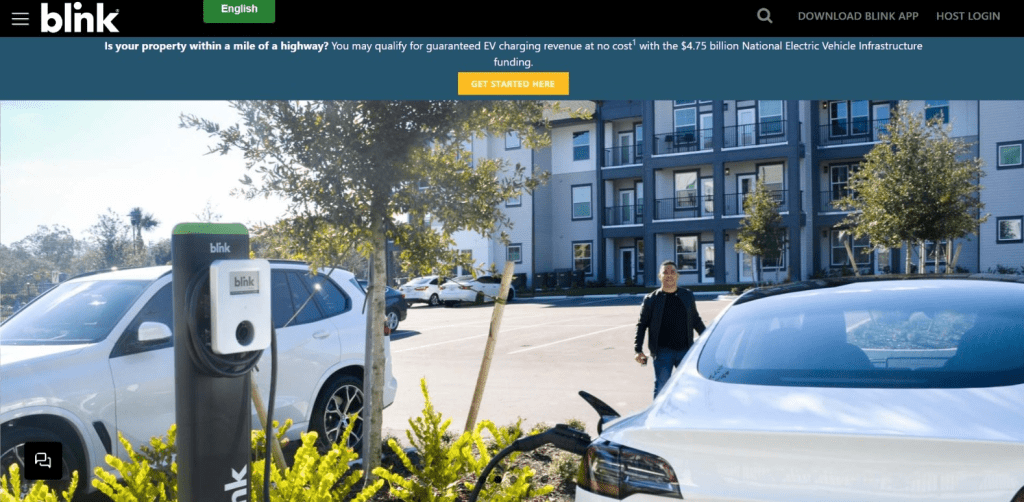 Blink is a leading provider of EV charging solutions in North America, offering both Level 2 AC and DC fast chargers. With a network of over 15,000 charging stations across the continent, Blink provides convenient and reliable charging options for EV drivers on the go. Their chargers are easy to use and have various features, including RFID card readers and mobile app access.
Blink also offers a cloud-based network management platform that allows businesses and property owners to monitor and manage their charging stations remotely. Blink's commitment to delivering innovative, high-quality charging solutions has made them a trusted name in the EV charging industry.
4. EVgo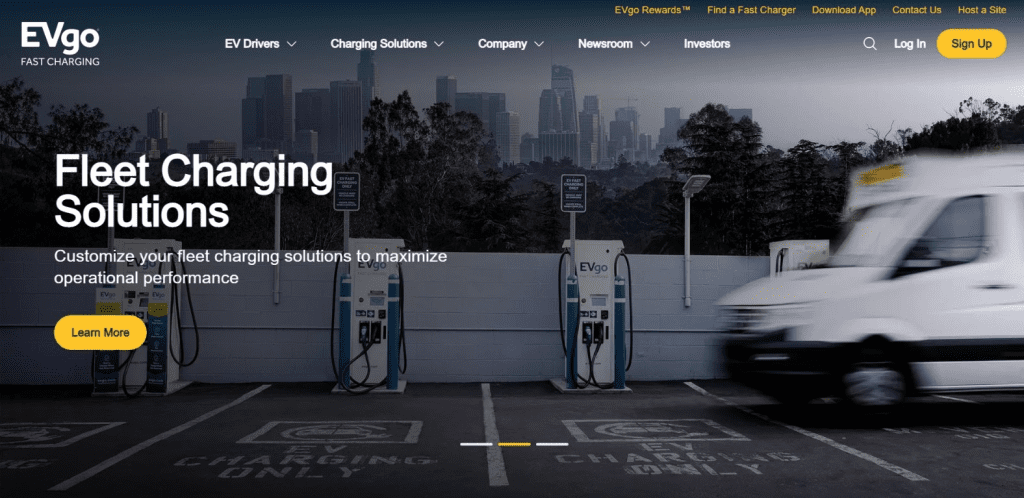 EVgo is a leading provider of fast charging stations for electric vehicles in the United States. With over 1,000 charging stations, EVgo has a wide network across 66 metropolitan areas in 34 states. EVgo charging stations use CHAdeMO and CCS charging standards, offering a fast and reliable charging experience for drivers of different EVs.
The company also offers a subscription plan for drivers, providing them with discounted rates and priority access to charging stations. EVgo is committed to sustainability, using renewable energy sources to power its charging stations and offering various energy storage solutions.
5. EVCS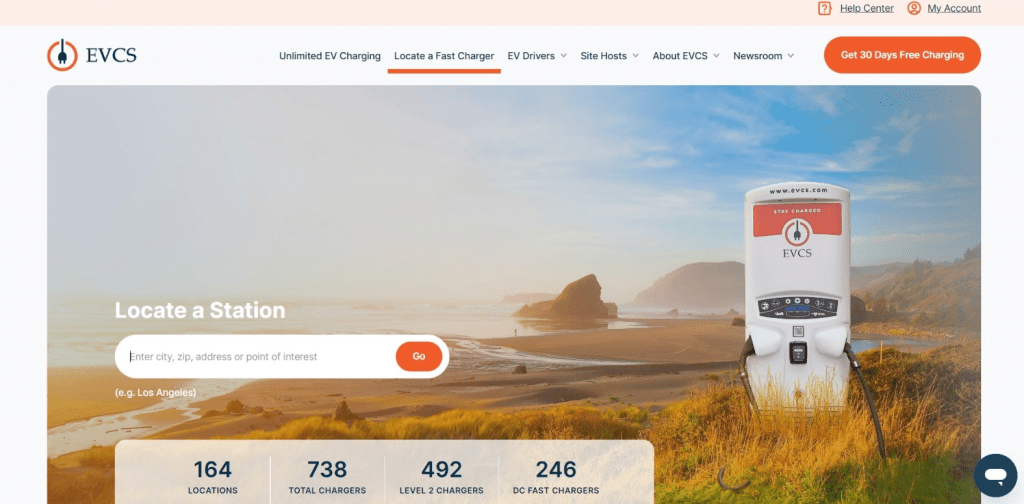 EVCS is another provider of electric vehicle charging solutions. Focusing on creating a more sustainable future, they offer various charging options, including Level 1, Level 2, and DC Fast Chargers. EVCS is committed to making EV charging accessible to everyone, from commercial fleets to individual EV owners.
They provide customised charging solutions for businesses, utilities, and municipalities, and their chargers are compatible with all major EV models. EVCS offers turnkey installation and maintenance services, ensuring a hassle-free experience for its customers. With a focus on customer satisfaction, quality, and innovation, EVCS is at the forefront of the EV charging industry.
Conclusion
The top 5 manufacturers of electric car charging stations are crucial players in the future of transportation. These companies are driving innovation and helping to make electric vehicles more accessible to drivers worldwide. Each of these manufacturers offers a unique set of products and services to meet the needs of various industries and scenarios.
Among these manufacturers, Electrly stands out as the best overall, thanks to their wide range of charging options, customisable solutions, in-house manufacturing, competitive prices, customer-centred policy, high-power DC chargers, long design lifetime, smart app control, high efficiency, top-notch safety, minimised standby power usage, and personalised branding options.
If you're looking for the most intelligent and convenient EV charging solution for your business or personal use, Electrly is the best choice. Contact them today to learn more and take the first step towards revolutionizing your EV charging experience.