Mobicash is an special service of Grameen Phone for its users to get an exclusive range of convenient & innovative services. Mobicash was introduced first to buy intercity railway ticket to overcome a lot of hassles.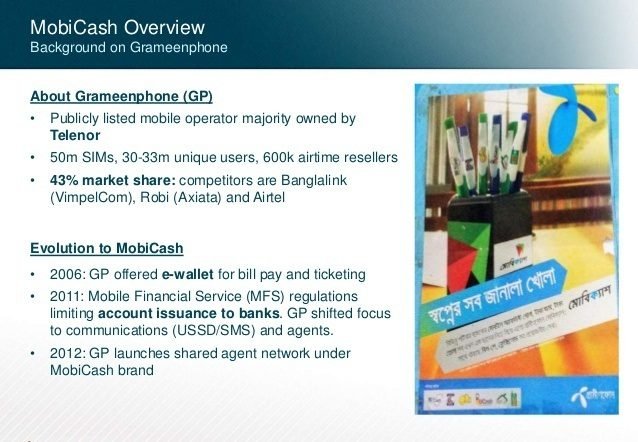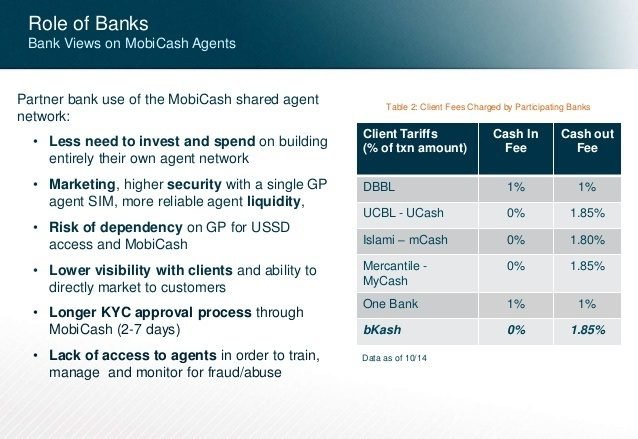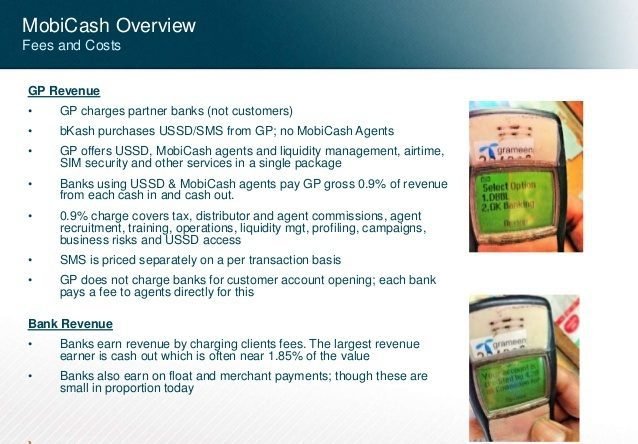 Where to Recharge Grameen Phone Mobicash:
You can only recharge your GP Mobicash Account from any Grameen Phone Billpay Signed center or from any below mentioned Grameen Phone Centers.
Grameen Phone Mobicash Recharge Points:
Grameenphone Centers at Motijheel, Gulshan, Farmgate, Mirpur, Dhanmondi
Grameenphone Centers at Agrabad and GEC
Grameenphone Center at Natore Road, Rajshahi
Grameenphone Center at Airport Road Amborkhana, Sylhet
Grameenphone Center at 181, Khan-A-Sabur Road, Khulna
 How to Recharge Grameen Phone Mobicash:
Get necessary refill in your 'MobiCash Refill' within 30 minutes of Booking from any Grameenphone Centers or any BillPay signed outlets.
Dial *131*2# from your Grameen Phone mobile phone
Type the Booking Code you received in previous SMS
Insert your PIN number
Press '0' to confirm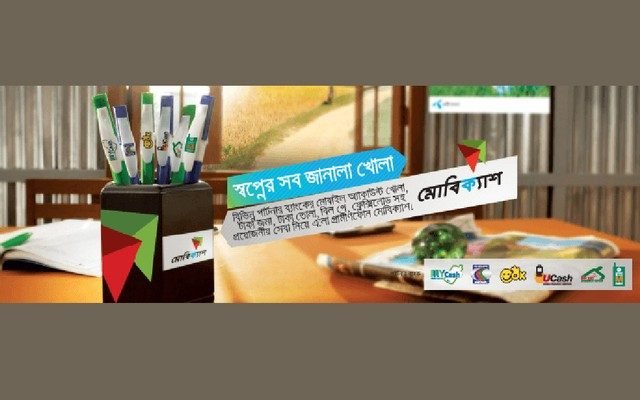 For more details about Mobicash Recharge / Mobicash Refill, go through Mobile Financial Service of GrameenPhone
Who are the Partner Banks of GrameenPhone Mobile Banking Services – Mobicash?:
Mobile Banking services of different partner banks are as follows:
UCash service of United Commercial Bank
Dutch Bangla Mobile Banking Service
ONE Bank "Ok" Mobile Banking Service
MYCash service of Mercantile Bank Ltd.
mCash service of Islami Bank Bangladesh Ltd.
Very soon IFIC bank's Mobile Banking service will also be available from MobiCash
Where You Can Use GP Mobicash Balance:
Mobile banking account opening of partner bank's or Customer registration
Cash-in (deposit cash into your mobile banking account) of any of the above partner bank
Cash-out (withdraw cash from your mobile banking account) of any of the above partner bank
BillPay service for utility bill payment such as Electricity, Gas and WASA (applicable in approved locations)
Flexiload to your GP Prepaid/Postpaid SIM
Nirvoy life insurance registration
BillPay through GP Mobicash: Pay Your bills Easily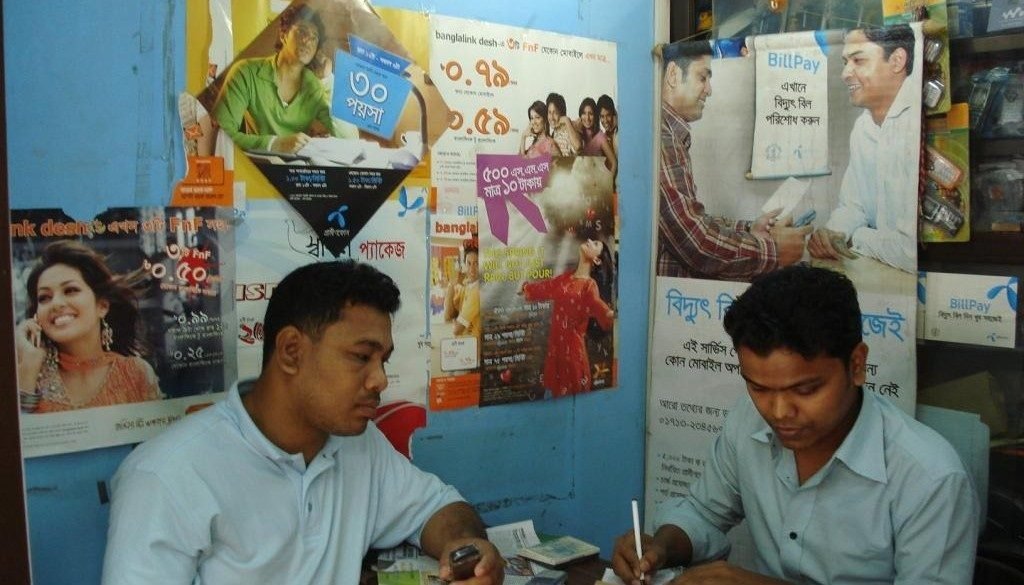 Which bill you can pay through Mobicash:
By using Mobicash, you can pay bill of the followings:
Electricity: DPDCL, DESCO and PDB (Larger Chittagong, Sylhet, Rajshahi and Bogra region)
Gas : TITAS, Bakhrabad, Karnafuly and Jalalabad
Water : Dhaka WASA, Chittagong WASA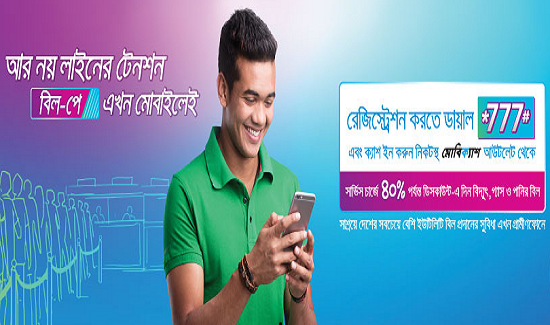 Bill payment procedure from authorized GP MobiCash outlets:
Please register for BillPay, at first
Visit any authorized MobiCash outlet with main utility bill copy and necessary amount of money and pay your bill
You may also register your mobile number to pay the bill directly from your GP mobile phone connection using your MobiCash account
Service charges (applicable for paying through GP mobile phone connection or from MobiCash outlet):
| | | | |
| --- | --- | --- | --- |
| Bill amount | Service Charge | Bill amount | Service Charge |
| Up to BDT 400 |   BDT 5 | BDT 1501 to BDT   5000 |    BDT 15 |
| BDT 401 to BDT 1500 |   BDT 10 | Above BDT 5000 |      BDT 25 |
*** VAT is included in the above charges. ***For any BillPay related help, please call 1200 call center (charge application)
Customer Fee for different Banks Partner:
| | | | |
| --- | --- | --- | --- |
| Partner Bank | Cash-In | Cash-out | P2P |
| Dutch Bangla Bank Limited | 1 % of Cash-In amount or BDT 5 whichever is higher | 1 % of Cash-Out amount or BDT 5 whichever is higher | BDT 10 |
| One Bank Limited | 1 % of Cash-In amount or BDT 5 whichever is higher | 1 % of Cash-Out amount or BDT 5 whichever is higher | BDT 5 |
| MYCash | Free | 1.85 % of Cash-out amount or BDT 5 whichever is higher | BDT 5 |
| mCash | Free | 1.80 % of Cash-out amount or BDT 5 whichever is higher | BDT 4 |
| Ucash | Free | 1.85 % of Cash-out amount or BDT 5 whichever is higher | BDT 5 |
| IFIC | 0.8% of transaction amount | 0.8% of transaction amount | BDT 3 |
Customer Transaction Limit:
Description
Customer
Daily Maximum
Monthly Maximum
Cash-In Trnx (No.)
5
20
Cash-In Amount (BDT)
BDT 50 – BDT 25,000
BDT 1,50,000
Cash-Out Trnx (No.)
3
10
Cash-Out Amount
BDT 50 – BDT 25,000
BDT 1,50,000
Max amount in a single Cash-In Transaction
BDT 25,000
Max amount in a single Cash-Out Transaction
BDT 25,000
**Respective regulators or Bank can change any time
Help Lines:
For any assistance regarding mobile baking services, please call the relevant partner bank's call center number below
Dutch Bangla Bank: 16216
One Bank: 16269
MYCash: 16225
mCash: 16259
UCash: 16268
IFIC: 16255