The way of increasing the visibility of a website in SERPs (search engine result pages) is called Search Engine Optimization (SEO). It is one of the most significant factors that decides whether a website is accessible to its target audience or not in popular search engines like Bing, Google, Yahoo, MSN, Ask etc. The Top 10 SEO tricks will greatly help you to get better SERP in the tremendous competition on SEO.
Here are Top 10 SEO tactics 2023 you need to know:
1. Use of Keywords:
Make variations in keywords, because keyword stuffing won't bring any benefit for recent continuous algorithm update of google. Keyword density mustn't exceed 4-5%. You have to include your keyword in Meta description title and body of the content. It can be of 150-170 words. Use keywords in headings. Give more emphasis on 2nd heading. Because web crawlers literally check on that heading.
                                <h1> heading 1 </h1>
                                <h2> PUT YOUR KEYWORDS HERE</h2>
                                <h3> heading 3 </h3>
You should use LSI keywords (Latent semantic indexing keywords) more. Do 'SEO Check Up' often. You may also use Google Ad Words, Word stream, Google keyword planner etc. for learning advanced strategy.
Use long tail keywords for the best optimization. If your keyword is " Top 10 SEO tricks " ,then you need to put long tail keywords like 'The top 10 SEO Tricks & tips 2023', 'The Best top 10 SEO tricks 2023', etc. like this.
2. Search Engine Friendly URLS:
Use shorter URLs and domains. Because they are more efficient than the longer ones. Instead of using "http://abcblog.com/page=5.htm", if you use "http://abcblog.com/seo/onpage-seo/", which one would be more user friendly? Using 2nd one will be more accurate and SEO friendly. Use search engine friendly permalinks. Avoid '?', '&', '!' etc. characters in URLs as much as possible. Use hyphens (-) instead of underscores (_) because hyphens increase readability.
In WordPress, you can fix permalinks settings by navigating to Dashboard –> Settings –> Permalinks.
3. High Quality Backlinks:
Backlinks play a vital role in determining page ranking. Use your keyword phrase to initiate links to your site and within your site. It is like making relationships with other websites and advertising your sites. Your content will be thus more validated the more your contents are inter-linked among the web. Creating excess backlinks frequently may be identified as spam by Google. Backlinks are the roots of tree of your blog/website. So choose your sites carefully where you want to put your backlinks. Those sites must have good reputation and handsome number of visitors. You can create your websites' back link by the following popular ways which is important in Top 10 SEO Tricks.
 Forum Posting in High PR Forums (By Posting New Threads, Posting Comments etc. – To learn more, go through Easy Forum Posting Tips & Top 25 High PR Do-follow Forum Sites List for Do-follow Backlink)
Social Bookmarking in High PR Dofollow sites (Get a List of Do-Follow Social Bookmarking Sites & go through Easy Bookmarking Tricks into Social Bookmarking Sites )
Blog Commenting in High PR Blogs (Get a List of Top Approved Blog Commenting Sites)
And, one important thing you must remember – You must follow Google Panda Updates during backlinking, Go through  Google Panda 4.0 Update
4. User Friendly Internal Links:
Don't forget to use more relevant internal links. In other words, if your keyword is "Top 10 SEO Tricks" then link to "Top 10 SEO Tricks" instead of a "Click here" link. In order to decrease blog bounce rate and increase page views, you can link your older posts to the newer posts so that all the contents always remain alive. Navigation menus must be built following this trick. Use nice anchors and logos while creating internal links so that visitors can't resist to check on those links. Thus get all your site explored by the visitors. If you can do this, there will be good review from the visitors and will be helpful for SEO. Google judges every pros and cons of your site and rank your site accordingly.
5. Create Fresh Contents to Produce Links:
People now a days are involved more in social websites. If you have good quality contents, if viewers like, comment or share those in Facebook, twitter or YouTube, then you have got a nice chance to earn links which will make your site more visible. But never try to copy paste from other websites. For example use "http://smallseotools.com/plagiarism-checker/" or "http://duplichcker.com" to check plagiarism of your contents. Attach videos, sound clips, pdf, pictures, diagram etc. of your contents and don't miss to attach their download links.
It is recommended to arrange your contents in your blog according to the calendar, older to newer, make a list of keywords in a menu so that visitors can find their desired contents just by browsing those keywords. Then Attach similar or recommended posts' links to the corresponding blog to give them an all-rounder browsing facility.
 6. Content, Image & Page Design:
One of the very Top 10 SEO Tricks in 2023 is to use longer contents to get better ranking. Otherwise you will fall behind your rivals who have put richer and more attractive contents than you. So use at least 600-700 words per content. Try to be unique and update your contents on regular intervals. Search engine spiders tend to index web pages more often the more you update your contents. Avoid duplicate contents otherwise your content will be blacklisted by the search engines.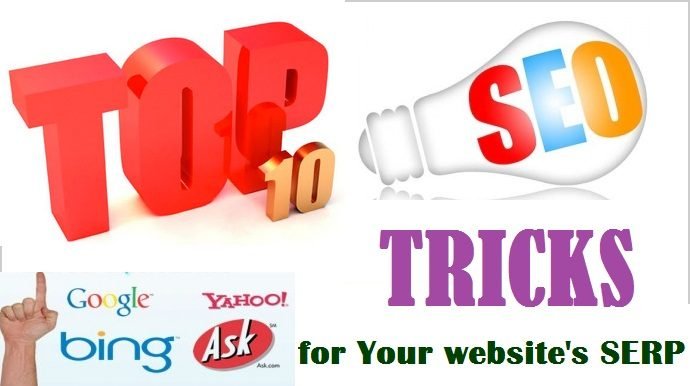 Always optimize your images. Each image must have ALT and title tag. Image caption should be keyword based. Using JavaScript in the drop down menu is recommended.
You must create all the important pages for your website like FAQ, support, help, about us, page, Privacy policy, Contact us etc.
7. Boost Your Site Speed:
Try hosting your site at dedicated servers like Godaddy, Hostgator etc. Otherwise try to get shared or VPS (virtual private server) hosting from trustworth hosting sites. Use compressed images and fewer ads for your blog so that your website can load faster.
Use SEO friendly templates. These are easily available on internet for free or at low price. Use a responsive, light, suitable, and fast loading theme supporting all browsers like firefox, google chrome, internet explorer, opera etc.
8. Social Media and Bookmarking:
Search engine algorithms are now considering social media signals to rank webpages. So in 2021 occupying social websites and media will be a very vital trick for SEO.
Join google+, Facebook, Twitter, YouTube etc. Create your own business page and post bookmarks wherever you can. It will attract visitors and your site visibility will go higher and higher. So it means you need to add "Follow", "Share", "Like", "Join", "Tweet" etc. buttons. It will yield higher rankings and more traffic for your website.
9. Consider Yahoo, Bing, Ask & Other Search Engines:
Instead of google, yahoo, Ask, Opera and Bing are also being used in many web browsers. For example, Firefox uses yahoo and Internet Explorer uses Bing. Day by day those are also becoming major search engines. So never forget to optimize for those search engines too. Somebody give attention only on firefox and forget internet explorer. But, it should not be. Internet explorer is widely used in the world also.
10. Mobile Friendly Websites:
In 2015, you can't neglect the demand of mobile sites. Because smartphones are rapidly reaching to mass population and hence demand of mobile sites are increasing. In this platform optimization should me more focused. So make sure that your site is optimized for mobiles so that each and every mobile users can view your sites easily. Hence your site should have unique desktop and mobile view. Otherwise, you will missed from getting enough visitors from smart phones and visitor in this platform is growing rapidly. You can check this out for custom healthcare web design
If you're looking for more information about  conversion rate optimisation visit Engineroom
In this topics, I have written Top 10 SEO Tricks & Tips 2023 for the assistance of bloggers so that they can get their site ranked into Google, Bing, Yahoo. If you like this topics really and helpful for you, kindly share it on your wall and put your valuable comments in the comments section. For More informations please visit: ecommerce keyword research
You should not miss to go through: